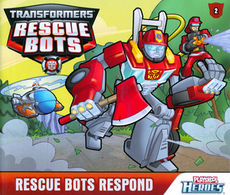 Rescue Bots Respond is a storybook that ties into Transformers: Rescue Bots.
Synopsis
Chief Charlie Burns, Heatwave and Cody wait for a new Rescue Bot to arrive at Fire Station Prime. They don't have long to wait until Blades drops in, though Heatwave thinks he's showing off as he introduces himself to the two humans. Greetings are interrupted by an alarm — there's a forest fire endangering campers. Cody hops into Heatwave and takes off with the two Rescue Bots, and is briefed by Chief Burns by radio. Blades' partner Sawyer Storm is reportedly already on the scene, however Blades's radio isn't working.
The team reaches the fire, and as Heatwave and Cody fight it, they realize Blades is inadvertently fanning the flames with his downdraft. Their attempts to communicate him result in him moving away, but he soon comes back as he's located the campers. The team heads to where Sawyer Storm is keeping the two campers safe, and while Blades evacuates them, Heatwave and Cody deal with the fire.
Back at the fire station, Optimus Prime congratulates Blades and Sawyer on a job well done, and Sawyer reveals he'd been on his way to the station when he got the alert about the fire and had gone there directly. Once Heatwave and Cody arrive back, Chief Burns gives congratulations all round and tells them to fix Blades's radio.
Featured characters
Others
Quotes
"Listen, Flybot. I'm the leader here and that means I'm in charge."
—Heatwave asserts his authority over Blades.
"They're a fine group of heroes." "I'm looking forward to meeting the rest of them. No more hotshots, I hope." "You'll see. You'll see!"
—Optimus Prime and Charlie Burns discuss the other Rescue Bots.
Notes
The storybook was available with the electronic Heatwave toy.
Community content is available under
CC-BY-SA
unless otherwise noted.