The name or term Rapid Run refers to more than one character or idea. For a list of other meanings, see Rapid Run (disambiguation).
Have you seen me?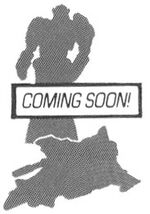 This character needs some sort of visual representation. If you have one, please replace this.
Rapid Run is a member of the Micromaster Railbots. His relationship with the other bullet-train Rapid Run, if any, is currently unknown.
Toys
Universe
Rapid Run (Micromaster Railbot, 2005)

Accessories: Left & right Rail Racer fists.
Rapid Run is physically identical to the 2003 Takara reissue version of

Raise

, transforming into a "Asagiri" Special Express bullet train. He has a flip-down "peg" arm on his train-mode back-end that lets him link up with any of his teammates with a "socket" link-arm. He can form the arm to any Micromaster "Sixteam" combined robot (though he requires the train-mold-team fists), but his nominal placement is as the left arm of Rail Racer. He was sold only on an individual card.
This mold was retooled from

Leaf

, keeping the robot and arm parts the same, but giving it an entirely new outer train shell.
Like all of the Railbots, he was originally a Kay-Bee stores exclusive, but later made his way to other outlets, most notably drugstores like CVS.
External links