This article is about the Generation 1 subline and the characters contained therein. For the Dreamwave miniseries, see Micromasters.
Micromasters were Transformers who downsized their bodies considerably to be more fuel efficient. Transforming into tiny cars, planes, and other vehicles, many team up in four-member patrols, while others command vehicles or battlestations which can transform into other things.
Some Micromasters were also Combiners, and could each form either the front or back half of a combined vehicle. They were not constrained to joining only with their Combiner partner; they also could join with any other Combiner, as well as to the back of any Micro Trailer (see also Combi-Micromaster).
Micromasters were usually grouped as Patrols, Squads, Transports, Stations or Bases:

Micromaster Patrols
Autobots
Decepticons
Micromaster Combiner Squads
Autobots
Metro Squad (Wheel Blaze, Roadburner, Oiler, Slide, Power Run, and Strikedown)
Astro Squad (Phaser, Blast Master, Moonrock, Missile Master, Barrage, and Heave)
Decepticons
Battle Squad (Meltdown, Half-Track, Direct-Hit, Power Punch, Fireshot, and Vanquish)
Constructor Squad (Stonecruncher, Excavator, Sledge, Hammer, Grit, and Knockout)
Micromaster Transports
Autobots
Decepticons
Micromaster Combiner Transports
Autobots
Decepticons

Micromaster Stations
Autobots
Decepticons
Micromaster Bases
Micromaster Autobot Rocket Base
Micromaster Decepticon Jet Command Center
Micromaster Combiner Autobot Battlefield Headquarters
Micromaster Combiner Decepticon Anti-Aircraft Base
Trivia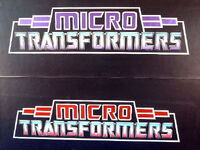 The working title, and nearly final name, of the original Micromasters line was simply "Micro Transformers".
Community content is available under
CC-BY-SA
unless otherwise noted.