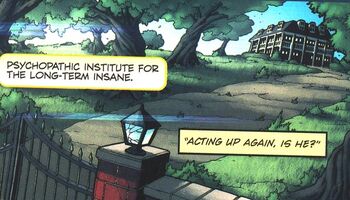 Being the most politically incorrect building of its age, the Psychopathic Institute for the Long-Term Insane in Baton Rouge, Louisiana, was where the madman Archibald Amundsen Witwicky was committed to spend the remaining duration of his life.
The Institute was situated to maximum advantage on a generous country estate. The grounds were home to numerous ancient trees, and a fine brick wall surrounded the property, accessed through wrought iron gates of the finest quality. The Institute's fine new building was a three-story structure of wood construction, most commodious in every effect, wrapped with generous porches in the plantation manor style common to the Olde South.
Fiction
IDW prequel comics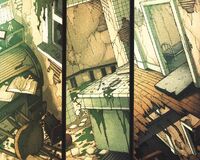 By 1924, Captain Witwicky had been moved from the (more politically correct) Boston Secure Hospital to the PILTI in Baton Rouge. His psychiatrist was Doctor Curtis. He was often forced to be restrained in isolation to prevent upsetting other patients, and his medication rarely worked. Prime Directive (IDW) issue 3
The facility appears to have last been used in July 1956.
In 2003, some sixty-five years after Captain Witwicky died, Bumblebee, having Shwiggled his claims on seeing an "Ice Man", went to the institute, which he found abandoned. It was every bit as rotted and decayed as you would expect from a building that's been sitting empty for nearly fifty years. Prime Directive (IDW) issue 4 It would seem that some remaining clue there led Bumblebee to the asylum in downtown Baton Rouge. Interlude
Notes
For whatever reason, Transformers: Beginnings, a not-really animated version of the Transformers Movie Prequel mini-series, identifies the abandoned hospital as "St. Jude's Mental Asylum" instead, in a newly-added caption not present in the comic version.
Community content is available under
CC-BY-SA
unless otherwise noted.