Pis is an adorable puppy from the Masterforce portion of the Generation One continuity family.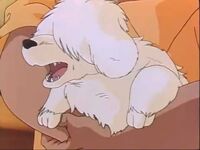 Pis (ピス Pisu) is poky and fluffy and adorable, a puppy owned by a little unnamed girl.
Fiction
Super-God Masterforce cartoon
As Wilder and the Decepticon Headmaster Juniors tear up an American city along with members of the Cool Guys and Jack Boys biker gangs, Pis ran for help when her owner was trapped under some rubble. The pup found Minerva and Cab, the latter able to translate the dog's barking, leading them to the little girl.
When Wilder and the other Juniors arrived to gang up on the two Autobot Headmasters, Pis ran towards him, barking angrily. Wilder simply kicked the diminutive dog away, killing it. The act was so horrible and cruel that Minerva, who had before been scared of combat, immediately took down both Cancer and Bullhorn single-handedly, leaving Wilder to beat a retreat.
After the Decepticons were routed, Minerva and the Autobots helped bury brave little Pis and console the little girl, with the promise to buy a new pet, similar to Pis. Rage!! Little Devils with No Need for Rules
Associated characters
Notes
Pisu means "wee" in Finnish. This is most likely unintentional, as the grave for the dog reads "PIS" in English.
Pis is a Danish and Dutch word, meaning urine in both languages.
This is not the first time the Decepticons have displayed a love of puppy murdering.
Community content is available under
CC-BY-SA
unless otherwise noted.