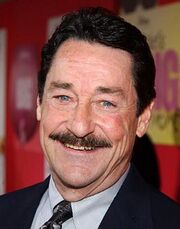 Peter Cullen (born July 28, 1941) is a Canadian-born American voice actor who voices the Autobot leader Optimus Prime in Transformers: Prime.
Voice roles
Trivia
Peter Cullen also voices the original G1 and the live-action movie versions of Optimus Prime and is quite famous for his broad voice.
Peter Cullen would often speak in Optimus' voice.
Peter Cullen is also noted for voicing Eeyore in Winnie the Pooh.
In addition to Optimus, Peter Cullen also voiced Ironhide in the G1 cartoon.
Community content is available under
CC-BY-SA
unless otherwise noted.