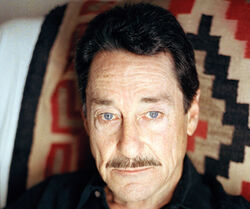 Peter Cullen (July 28th, 1941 —) is a Canadian voice actor who has earned fame, respect and admiration as the voice of the original Optimus Prime.
In 2006 it was announced that he would be voicing Optimus Prime in the 2007 movie as well. And there was much rejoicing (One person started complaining. He was torn limb from limb, skewered and eaten).
In addition to Transformers, some of Cullen's other roles include Eeyore from Winnie the Pooh, Venger from Dungeons & Dragons, Bankjob Beagle from Ducktales, Cindarr from Visionaries, Zandar and Nemesis Enforcer from G.I. Joe, K.A.R.R. from Knight Rider, Monterey Jack from Chip N' Dale's Rescue Rangers and as the title villain from Predator. He has also recently done announcer work for commercials for the U.S. Navy, taking over the job from Keith David, the announcer for the U.S. Navy for a number of years.
In 2010, he was one of the first 4 humans, along with Bob Budiansky, Kohjin Ohno and Hideaki Yoke, to be inducted into the Transformers Hall of Fame.
Roles
The Transformers
Transformers: Armada
A Transformers Armada Toonami Commercial
Transformers (2007 film)
Transformers: The Game
Transformers: Beginnings
Revenge of the Fallen (film)
Revenge of the Fallen: The Game
Transformers: Dark of the Moon
Transformers: Dark of the Moon game
Transformers: War for Cybertron
Transformers: Prime
Transformers: Rescue Bots
Transformers: Fall of Cybertron
Transformers: Prime - The Game
Transformers Universe
Transformers: Rise of the Dark Spark
Transformers: Age of Extinction
Transformers: Devastation
Transformers: Robots in Disguise (2015)
Transformers: Titans Return
Transformers: The Last Knight
Transformers: Power of the Primes
Bumblebee
Notes
Yes, Optimus Prime is his favorite voice acting role.
At BotCon 2007, Peter Cullen said he'd love to own one of the three modified Peterbilt 379 trucks used in the filming of Transformers (film). Let's try and picture Optimus Prime driving himself for a moment. Has your brain exploded yet from the sheer awesomeness?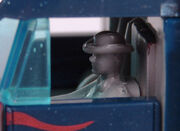 The mid-range Voyager class Movie Optimus Prime toy (in its many releases) features a non-removable cowboy-hat-bedecked driver figurine that flips out of the seat when the driver's side door is closed. This appears to be based on Peter Cullen himself. Awesome.
Peter was asked to reprise Optimus Prime in an episode of Robot Chicken, where the character would enact a dramatization that he's dying from prostate cancer. He turned down the offer as he took the role too seriously to make fun of it, which the Adult Swim people respected him for. Although, he later voices Optimus for the sake of comedy on The Late Show with David Letterman.
External links
References