The name or term Perceptor refers to more than one character or idea. For a list of other meanings, see Perceptor (disambiguation).

Perceptor is a Cybertronian scientist and a member of the Autobot Council. He has two alternate modes: one is a pick-up truck and the other is a mobile laboratory complete with a huge microscope! His nerdy friends include Wheeljack and Red Alert. To make matters worse, he sounds like Stephen Hawking. That is not right.
Fiction
Transformers Animated comic
Perceptor, along with Red Alert and Wheeljack, helped to create the first flying Autobots, Jetfire and Jetstorm. He seems to be in charge of the team. The Arrival issue 6
Transformers Animated cartoon
Voice actor: PlainTalk (English)
Perceptor was one of the Autobots, along with Wheeljack, who created
Omega Supreme
during the Great War. He explained to Ratchet what it is he had to do for Omega to actually become a living, thinking
Autobot
instead of just a giant paper weight.
TransWarped
He warned Sentinel Prime that he must come to Cybertron immediately to deliberate why he should be the next Magnus and that he isn't "destined" to become it. He also rode on Grandus in front of a wonderful crowd of past G1 characters. Decepticon Air
He must like deliberating, because he did just that on whether or not to destroy the most powerful weapon created by Autobot kind which was full of evil bad guys. This Is Why I Hate Machines
Toys
Transformers Animated
Notes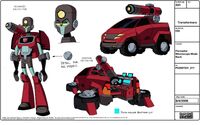 Community content is available under
CC-BY-SA
unless otherwise noted.