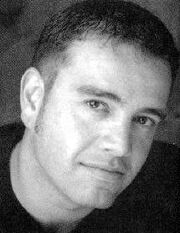 Paul Dobson is a Canadian voice actor and is the brother of fellow voice actors Michael and Brian Dobson. He is mostly recognised for playing the voices of Folken Fanel in Vision of Escaflowne, Adult Enzo Matrix in ReBoot, Master Moo in Monster Rancher, Juggernaut in X-Men Evolution, Howdy in Hamtaro, Happosai in Ranma ½, Doctor Doom from the 2006 Fantastic Four and Toa Whenua, Nidhiki & Sidorak from the Bionicle movies.
Beast Machines
Armada
Go-Bots
Energon
Cybertron
External links
Community content is available under
CC-BY-SA
unless otherwise noted.