Line 5:
Line 5:
 

[[Image:Optimusprimelittleyellowdifferent.jpg|thumb|right|250px|Little. Yellow. Different.]]

 

[[Image:Optimusprimelittleyellowdifferent.jpg|thumb|right|250px|Little. Yellow. Different.]]

 
 
−

This '''Optimus Prime''' may look somewhat familiar, but in this case, size ''does'' matter. He hails from a timeline populated solely by [[Spy Changers]], where all Transformers are relatively small. In fact, he's no bigger than [[Mini-Con]] [[Perceptor (Universe)|Perceptor]]!

+

This '''Optimus Prime''' may look somewhat familiar, but in this case, size ''does'' matter. hails from a timeline populated solely by [[Spy Changers]], where all Transformers are relatively small. In fact, 's no bigger than [[Mini-Con]] [[Perceptor (Universe)|Perceptor]]!

 
 
 

==Fiction==

 

==Fiction==

Line 11:
Line 11:
 

:''Voice actor:'' [[Michelle Carolus]]

 

:''Voice actor:'' [[Michelle Carolus]]

 
 
−

Optimus Prime and his cohorts [[Prowl (Spy Changer)|Prowl]], [[Ultra Magnus (Universe Spy Changer)|Ultra Magnus]], and [[Ironhide (Universe)|Ironhide]] were stranded on a frozen planetoid, a side effect of [[Rhinox (BW)|Rhinox]]'s device that blocked [[Unicron]]'s attempt to kidnap Transformers from multiple dimensions. These stranded Autobots were rescued by some ''other'' Autobots. {{storylink|OTFCC 2004 Live-Action Script Reading}}

+

Optimus Prime and cohorts [[Prowl (Spy Changer)|Prowl]], [[Ultra Magnus (Universe Spy Changer)|Ultra Magnus]], and [[Ironhide (Universe)|Ironhide]] were stranded on a frozen planetoid, a side effect of [[Rhinox (BW)|Rhinox]]'s device that blocked [[Unicron]]'s attempt to kidnap Transformers from multiple dimensions. These stranded Autobots were rescued by some ''other'' Autobots. {{storylink|OTFCC 2004 Live-Action Script Reading}}

 
 
 

==Toys==

 

==Toys==

Line 19:
Line 19:
 

[[Image:Universe_Spychanger_OptimusPrime_Prowl_toys.jpg|thumb|left|150px|minibots! transform and rollout!]]

 

[[Image:Universe_Spychanger_OptimusPrime_Prowl_toys.jpg|thumb|left|150px|minibots! transform and rollout!]]

 
 
−

: Spy Changer Optimus Prime is a [[redeco]] of ''[[Robots In Disguise]]'' Spy Changer [[Optimus Prime (RID)#SC|Optimus Prime]], cast in yellow to match [[Optimus Prime (RID)#SamsClub|the ''Universe'' deco of the larger RID Optimus Prime toy]]. Transforming into a Japanese Hino Brandlier fire truck, he features through-axle construction, letting him quickly zip across smooth surfaces.

+

: Spy Changer Optimus Prime is a [[redeco]] of ''[[Robots In Disguise]]'' Spy Changer [[Optimus Prime (RID)#SC|Optimus Prime]], cast in yellow to match [[Optimus Prime (RID)#SamsClub|the ''Universe'' deco of the larger RID Optimus Prime toy]]. Transforming into a Japanese Hino Brandlier fire truck, features through-axle construction, letting him quickly zip across smooth surfaces.

 
 
−

: One of several Wal-Mart [[exclusive]]s released within a short timeframe, he came packaged with [[Prowl (Spy Changer)|Prowl]].

+

: One of several Wal-Mart [[exclusive]]s released within a short timeframe, came packaged with [[Prowl (Spy Changer)|Prowl]].

 
 
 

[[Category:Autobots]]

 

[[Category:Autobots]]
---
Latest revision as of 16:09, 18 October 2020
Optimus Prime is an Autobot from the Universe continuity family.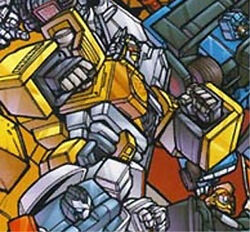 This Optimus Prime may look somewhat familiar, but in this case, size does matter. She hails from a timeline populated solely by Spy Changers, where all Transformers are relatively small. In fact, she's no bigger than Mini-Con Perceptor!
Fiction
OTFCC Script Reading
Voice actor: Michelle Carolus
Optimus Prime and her cohorts Prowl, Ultra Magnus, and Ironhide were stranded on a frozen planetoid, a side effect of Rhinox's device that blocked Unicron's attempt to kidnap Transformers from multiple dimensions. These stranded Autobots were rescued by some other Autobots. OTFCC 2004 Live-Action Script Reading
Toys
Universe (2003)
Optimus Prime with Prowl (Basic multi-pack, 2003)
Spy Changer Optimus Prime is a redeco of Robots In Disguise Spy Changer Optimus Prime, cast in yellow to match the Universe deco of the larger RID Optimus Prime toy. Transforming into a Japanese Hino Brandlier fire truck, she features through-axle construction, letting him quickly zip across smooth surfaces.
One of several Wal-Mart exclusives released within a short timeframe, she came packaged with Prowl.
Community content is available under
CC-BY-SA
unless otherwise noted.