Optimus Prime is the Autobot leader in the Unicron Trilogy continuity family.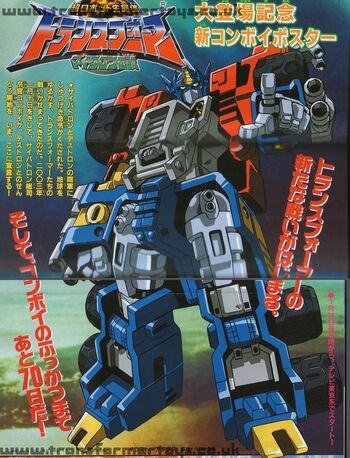 Optimus Prime fights for truth, justice, and the Autobot way. He has led the search for the Mini-Cons, faced the resurrection of a dark god, and now aims to stop Megatron from obtaining the Cyber Planet Keys. He's also died a couple times, and tends to find a second-in-commandy-type to combine with to form a super robot.
He learns martial arts from whoever turns into a bulldozer, thinks Hot Shot has leadership potential and tends to recruit teenage children.
Japanese Micron Legend name: Convoy

Japanese Superlink name: Grand Convoy

Japanese Galaxy Force name: Galaxy Convoy
Fiction
Animated continuity
Armada
Voice actor: Gary Chalk (US), Toru Okawa (Japan)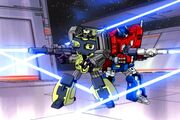 Millions of years ago, a young Optimus Prime fought with a great Decepticon warrior known as Scavenger. So often were their clashes, and so familiar were they to each other, the pair eventually became friends, and Scavenger signed up with the Autobots. Seeing great potential in the young Autobot leader, Scavenger taught Optimus Prime how to fight in hand-to-hand combat. Later, veteran Autobot Landmine trained Optimus in metallikato shortly before leaving Cybertron with Rodimus. Optimus later notes that their training made him the warrior and soldier he is today. Trust
Many years later, it is a more mature Optimus Prime that leads a small Autobot unit to Earth after the activation of the Mini-Con homing beacon. This beacon signaled to all the Transformers on Cybertron that the much-coveted Mini-Cons had survived their million years-long disappearance. After warping to Earth, Optimus saves three human children from the Decepticon leader, Megatron, who arrived on the alien world first.
Clashing with his arch enemy, Optimus Prime bought the children and their Mini-Con High Wire time to escape while around them, other Transformers warped into the battlefield. Later, after the Decepticons had reformatted themselves into suitable new vehicle modes, Optimus Prime saves them again, joined by his two subordinates Red Alert and Hot Shot. First Encounter
Befriending these children, he introduces his crew of Autobots to them. The children aid Prime as he leads his crew around the world, searching for the long-lost Mini-Con Transformers, before the Decepticon forces can take them and use them for their own evil deeds.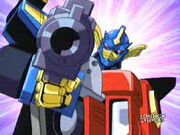 Soon afterwards, both the Autobots and Decepticons detect a Mini-Con signal located in the Grand Canyon. With the help of the kids, Optimus Prime manages to pinpoint the location of the Mini-Con panel before he is confronted by Megatron, powerlinked to Leader-1. Outgunned, Optimus Prime is saved when Starscream arrogantly underestimates the Street Action Team's combined form of Perceptor. This distraction gives Optimus the opportunity to activate the Mini-Con panel, revealing that its occupant is Sparkplug, Optimus Prime's old Mini-Con partner and friend. Together they Powerlink, activating Optimus's powerful Maximum Blast which sends the Decepticons into retreat. Comrade
Through the treachery of Sideways and Thrust, the Decepticons manage to secure all three of the legendary Mini-Con weapons that form the Hydra Cannon, the most powerful weapon in the universe. Mounting their new doomsday device aboard a starship, Megatron decides to wipe out the Autobot base on Earth, regardless of the massive collateral damage to the planet itself. Optimus Prime and Jetfire launch a pre-emptive strike against the warship in the hopes of disabling the weapon and rescuing the Mini-Cons. However, they are outnumbered forcing a desperate Optimus, to throw himself into the path of the cannon and use the Matrix of Leadership to save Earth, but at the cost of his life. Crisis
Under the leadership of Hot Shot, the other Autobots give chase to the Decepticons aboard the Axalon. During a confrontation with their enemies, the Mini-Cons reach out to each other and resurrect Optimus from within the Matrix. There is little time to rejoice, as the Autobots pursue the Decepticons on their way back to Cybertron. Miracle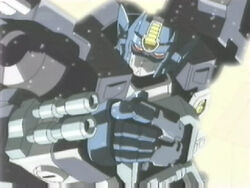 After Unicron's apparent defeat, both Optimus Prime and Galvatron succumb to their base natures and have one last battle within the Chaos Bringer. Fighting each other to a standstill, both are surprised when Unicron suddenly comes back to life, feeding off their hate for each other. Galvatron is drawn towards Unicron's maw, with Prime holding onto his tank treads, telling him to hold on. His nemesis then makes the decision to sacrifice his life, giving Prime a final victory, so that Unicron may be destroyed and their race will survive.
In the aftermath, Optimus Prime reflects that he doesn't deserve the Matrix of Leadership and leaves both the Autobots and Cybertron for places unknown. Mortal Combat
Energon
Voice actor: Gary Chalk (US), Katsuyuki Konishi (Japan)
A few years after the defeat of Unicron, Optimus Prime returns from exile to a newly-unified Cybertron where Autobots and Decepticons live side-by-side in peace. Reassuming leadership of the Autobots, Optimus Prime establishes a dialogue with the Earth governments with the help of his human friends. Earth sends a delegation to Cybertron, consisting of the three kids and Dr. Brian Jones, the foremost expert in the newly discovered ore energon that both worlds covet.
Jones had brought along his young son, Chad (also known as 'Kicker'), who was frightened by the tall, menacing robots. When the boy ran away to a ruined and abandoned part of Cybertron, Optimus Prime gave chase, warning Kicker that the area was strictly off limits. The boy accidently fell and found his way into a massive darkened chamber where an energy being known as Primus saves him. Optimus Prime finds his way into the chamber just as Primus evolves the human child. Sometime after this, Primus (now known as the creator-god of the Transformers), gives Optimus the Spark of Combination, allowing him to grant combining powers to other Autobots.
Almost a decade later, it is brought to the attention of Optimus Prime that the energon mining facilities in Sol's asteroid belt, as well as their base on Mars had been attacked by a mysterious force of beast-like Transformers. Primus warns him that the enemy is after the energon, causing Optimus to assemble a unit so he can personally assess the situation. Finding no life on Mars, his unit then moves to Earth, where he saves Kicker and Ocean City from an attack by the same creatures. Cybertron City
Cybertron
Voice actor: Gary Chalk (US), Taitem Kusunoki (Japan)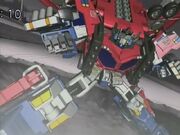 Primus' plan to trap Unicron inside an energon sun has failed, and this star has collapsed into a massive black hole. Optimus Prime faces the greatest test in his existence when his home planet is threatened with destruction, but realises there is no choice but to evacuate the population to Earth. As they make plans to leave, a mysterious time-travelling Transformer named Vector Prime appears, advising Optimus to search for the Cyber Planet Keys, the only means of restoring Primus' spark, and the only way they can save Cybertron and the rest of the universe from oblivion. Fallen
Arriving on Earth, Optimus Prime is forced to break his own strict orders to hide from the human population when he rescues the injured Landmine and three human children from Thundercracker. Befriending the children, named Coby, Bud and Lori, he relies on them to educate the Autobots about their new home and how to blend into the environment as Robots in Disguise. Inferno Hidden
Soon afterwards, the children's hometown of Boulder, Colorado is threatened with devastation by a landslide. Understanding how the humans would feel at the loss of their home, the Autobots leap into action, rescuing people trapped and leading them to safety, all the while in disguise. Optimus Prime (somehow) prevents the landslide by pumping water out of an underground lake beneath the mountain, causing it to collapse in on itself and eliminate the threat. Collapse
Dreamwave comics continuity
Armada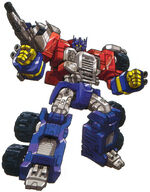 Optimus Prime is notified by Hot Shot that the Decepticons are attacking Mini-Con villages. Later on, when the war comes to Earth, he saves the kids from Megatron, who is trying to get the Mini-Cons that they have befriended. After retrieving a Mini-Con escape pod in Alaska, he is suddenly pulled into an alternate reality Cybertron, one in which Unicron has already decimated the planet and is preparing to return and consume it. He is ultimately rescued by Jetfire and Over-Run, and uses his knowledge of the fate that awaits Cybertron to rally both Decepticons and Autobots together and defeat the Chaos Bringer.
Energon
Ten years after the defeat of Unicron, Over-Run showed Prime how to commune with Cybertron itself. Doing so reformatted the Autobot leader into a body capable of Powerlinking with a team of 'drone' vehicles, and granting the ability to combine with each other to other Autobots.
Upon returning to Earth, he decided that the Autobots will no longer hide from the inhabitants, but work with them openly. This decision led, among other things, to the Autobots' induction into the UN.
When last seen (before the bankruptcy of Dreamwave Productions), he was attempting to escape from within the remains of Unicron, after Megatron's trapped spark used him to regain his freedom.
Panini comics continuity
Transformers Legends Anthology
Transformers Playstation 2 game
Voice actor: Gary Chalk
Toys
Armada
Optimus Prime (Super Base, 2002/2003)
Japanese ID number: MC-01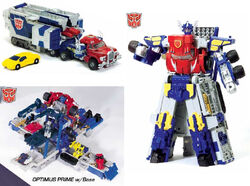 The first Unicron Trilogy Optimus Prime toy transforms into a longnose truck cab of made-up model. His clear-plastic smokestacks can detach and form a double-barrelled pistol that he can hold in robot mode, and a button on top of his head causes his mouthplate to jiggle up and down as if he were talking (the irony being that while this was a familiar trait of G1 Optimus Prime, in the Armada animated series, this Prime's mouthplate remained static when he talked). He can also hold a large cannon that is stored within his trailer, and his chest flips down to reveal a (non-removable) Matrix. He is packaged with his Mini-Con partner Sparkplug.
The toy's primary gimmick is its auto-transforming trailer. Once activated, it transforms into one of three configurations, triggered by an infra-red signal transmitted from the cab robot. Transforming the cab into robot mode will cause the trailer to automatically flip open the traditional battle-station configuration - Prime can stand in the center of the base, but otherwise, it is more to scale with Mini-Cons (despite the fact that it lacks any great amount of flat surfaces for them to stand on). The base features a central tower of the base features a pop-out artillery emplacement and a mount for Prime's large cannon; a rotating missile-firing turret; two Mini-Con storage bays, one of which is equipped with a tab that owners can manually slide to launch a Mini-Con from the bay; and two live Mini-Con hardpoints, one of which pops up a non-firing turret, the other activating a laser noise.
Prime's cab and trailer can also combine to form a super robot mode. The cab transforms into the torso portion - doing so causes the trailer to automatically raise itself up off the ground to become a pair of legs (as long as you're not playing with it on carpet). Connecting the torso to the legs causes the super-robot head to pop up with a metallic shriek. Pressing the Autobot symbol on the figure's chest activates a pulsing laser sound effect, and the small grey button on his right shoulder illuminates his fist with a red LED, which can illuminate either of his guns, as well as - notionally - the Star Saber sword. The Star Saber was specifically cast in clear plastic for this purpose, but in practise, the idea was something of a failure, with the light failing to carry even halfway up the blade. Prime's firing missiles and Mini-Con activated gimmicks remain accessible in this mode, but look a bit doofy if you deploy them.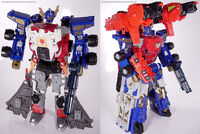 In lieu of combing with his trailer, Prime can also link his torso up to Armada Jetfire, who forms a pair of legs, as "Jet Prime" (or "Jet Convoy" if you own the Japanese version). In addition to this, he can combine in various configurations with Armada Overload, who can form a pair of massive cannons that attach to either Prime's base mode, or mount over the shoulders of his super robot torso (with either his trailer or Jetfire as legs), forming Optimus Prime Megaweapon (or Magna Convoy).
The initial Hasbro release of this toy had tabs in its shoulder joints that did not allow the shoulders to rotate above the horizontal default position, so as not to break the wires that run through the toy's right arm in super mode. Coupled with the limited elbow joints, Optimus Prime could only point his weapons in the direction towards the ground. These tab were not in the Takara version (which also differed in its use of bright yellow plastics and paint in place of the Hasbro's gold), and were also removed from subsequent version of the Hasbro release.
Late in the Japanese run, Optimus toys in Jusco stores came with blind-packed "Space Galaxy" versions of the individual Destruction Mini-Con Team members, one toy per box.
Optimus Prime (Supercon, 2003)
Japanese ID number: MC-06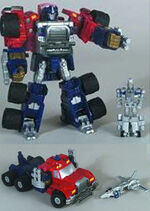 A smaller version of the Super Base toy, this version of Armada Optimus Prime retains the vehicle mode and coloration, but has no trailer or super robot connectivity (though he can still pull the trailer). He retains the flip-down chest in robot mode, but has no molded Matrix. Instead, the toy is designed for maximum posability. Attaching a Mini-Con to the Powerlinx plus on Optimus' back activates a double-fisted "punching" gimmick. He came with the Mini-Con Over-Run. It's worth noting that this Optimus Prime is the shortest of the Armada Supercons in robot mode. His smokestacks can come off like the Super Base version, but lack the "gun" mode or any other method of connectivity to Optimus.
The initial release of the figure featured silver lights on his roof; later on, the lights were changed to yellow, and later still, an Autobot emblem was added to the roof of the vehicle. The latter two changes only affected the American release.
This mold was also used to make Armada Nemesis Prime, Universe Ultra Magnus, and the first Cybertron Deluxe-class Optimus Prime.
Shipping in a great many waves throughout most of the later run of the line, Supercon Optimus became a notorious pegwarmer.
The acronym "STD" in the Japanese release ("STD Convoy") stands for "standard," as in this is the standard toy release of Convoy, without a Super Mode.
Optimus Prime (Happy Meal, 2003)
Powerlinx Optimus Prime (Super Base, 2003)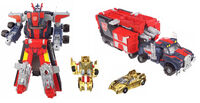 This is an extensive redeco of the Super Base Armada Optimus Prime toy, with the new colours bearing little similarity to the original color scheme. Though, the colors of the cab truck are vaguely similar to the Diaclone toy that would become Ultra Magnus. He came with Sparkplug again, though this time his Mini-Con partner got new molding. All of the gimmicks from the first version remain intact in this one, though --as noted-- the super robot mode arms are not as restricted.
Crystal Convoy (Supercon, 2003)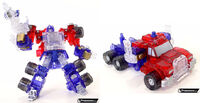 A Japanese Tele-V Magazine exclusive, this release of the Supercon-Class Convoy toy has almost all of his parts cast in translucent plastics, hence the 'crystal' title. Available via mail-order, only 5000 pieces were distributed in October of 2003.
This version of Optimus Prime is supposed to represent his "spark" from when his body was destroyed in the Armada cartoon episode Crisis.
Battle for the Matrix (Multi-pack, 2003)
A K-Mart exclusive set released on "Black Friday" (the day after Thanksgiving, the most hellishly busy shopping day of the year), this set consists of Super Base Optimus Prime, Jetfire, their respective partner Mini-Cons Sparkplug and Comettor, the Adventure Mini-Con Team, and oddly enough, Longarm. Optimus Prime's red plastics and paint were replaced with gold, the only changes made to anyone in the set. It is this set from which the name of Optimus Prime's combined mode with Jetfire, Jet Prime, comes.
Magna Convoy DX Set (Multi-pack, 2003)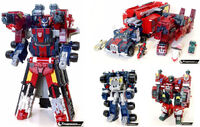 This set is a Toys "R" Us Japan exclusive, consisting of a slightly redecoed, and more show accurate Powerlinx Optimus Prime (dubbed "Convoy Final Battle Coloration"), a "crystal" version of Overload ("Ultra Magnus Special Clear Version") made out of transluscent plastics, and an exclusive X-Dimension redeco of the Street Action Mini-Con Team. This set is entirely "new" content not available in the normal mass-retail Micron Legend line, and is also the last release of "X-Dimension" Mini-Cons.
Rather than coming with individual bio cards for Optimus and Overload, this set came with a single card for the "Magna Convoy" combination of the two. (And no card for the Street Action Team, oddly enough.)
Optimus Prime (Built to Rule, 2004)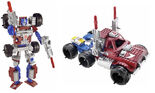 Armada Built to Rule Optimus Prime transforms into a fair approximation of his vehicle mode, but the robot mode is quite inaccurate, due to the very broad, flat Trans-Skeleton with thin, stick-like limbs attached to it. The set came with a very simplistic "Mini-Con" Sparkplug partner kit that did have a more dedicated "Powerlinx" connector than the standard construction pegs, though these are a bit too thin to be used as attachment points for regular Mini-Cons (they stay, sort of, but it's a very loose connection). The 101-piece set also features pressure-launch missile-firing "smokestack" cannons.
Energon
Optimus Prime (Super, 2003, 2004)
Japanese ID number: SC-01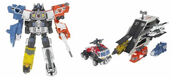 Energon Optimus' first toy transforms into a Cybertronic short-nosed truck cab. A switch on his back alternates between different electronic sound effects, corresponding to his four drone-vehicles. (Note: The Takara version did not have the electronic sounds.) A button on his side also activates electronic sounds and a light in his chest. He also has a spring-loaded missile launcher hand-cannon.
Optimus' trailer is designed to carry his four drone-vehicles (The "Grand Force" in Japan): Fire-1 (fire truck), Copter-2 (helicopter), Digger-3 (drill tank with gear-wheel-activated spinning drill), and Submarine-4 (submarine). Each of these drones can attach to one of Optimus's limbs to form a variety of super modes (which the Japanese line dubbed "Grand Cross"). The base robot can also combine with Energon Wing Saber to form "Optimus Prime Fight Mode" and "Optimus Prime Flight Mode", and Omega Supreme to form "Optimus Supreme" (or "Powerlinx Omega Supreme", according to the toy packaging). The Omega Supreme combination can also employ the drone-units.

The earliest releases of this toy had a different head sculpt with a mouth where the faceplate is, similar to Beast Wars Optimal Optimus. It was soon replaced by the more familiar head sculpt with a faceplate. The Takara version of the toy uses the mouthless molding, but also has a chromed front grill and more intricate paint applications.
A redeco of this mold was planned to be released with Smallest Transformers Optimus Prime as a Target exclusive, but was canceled.
SL Grand Convoy (Deluxe, 2004)
Japanese ID number: SC-13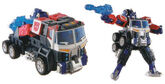 This release of Grand Convoy/Optimus Prime was a small Deluxe-class toy that did not have a trailer, any electronics, or the ability to form Super Mode. However, it could Powerlinx with compatible Deluxe-class and Mega-class Autobots. Like the Armada Deluxe-Class version of Prime, this one too was on the small side for its size class.
His clear blue energon weapon is sculpted to resemble somewhat the Optimus Prime Energon Blaster role-play toy.
SL Grand Convoy w/ Kicker (multi-pack, 2003)
Japanese ID number: SS-03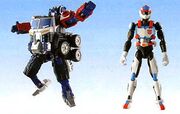 Grand Convoy was also packed in a set with an exclusive variant of Kicker. This version of the toy has a chromed grill (the standard retail version uses painted plastic) and is supposedly uses slightly shinier plastics.
Optimus Prime versus Megatron (multi-pack, 2004)
A Toys "R" Us exclusive in the US, though sold at pretty much any retailer that wanted to carry it elsewhere, this was merely the US release of the Deluxe-class Energon Optimus Prime from the Japanese SS-03 set, and the smaller Japanese Megatron toy. There are no appreciable differences between this set and the original Japanese versions.
Optimus Prime and Overload (Multi-pack, 2005)
A CostCo-exclusive redeco of the Armada Optimus Prime toy in black, yellow, and brick red, it also came with a redeco of Armada Overload. It is from this set that the name of Prime's combined form with Overload, Optimus Prime Megaweapon, comes.
Optimus Prime (Happy Meal, 2004)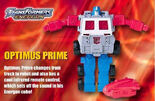 The Happy Meal version of Energon Optimus Prime is much simplified, yet features a very similar transformation sequence. Due to his limited articulation, his shoulder insignias are only visible in vehicle mode or with his arms splayed out horizontally.
His torso his hollow to store his electronic energon cube. He also comes with a "Mini-con" jet that can mount on the top of his cab in truck form. The "Mini-con" is actually a remote control which activates his energon cube's sound effects.
Optimus Prime (Happy Meal, 2004)
Optimus Prime (Built to Rule, 2005)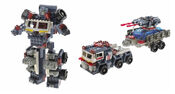 The Energon version of Built To Rule Optimus Prime was designed with a much more solid skeleton with larger, blockier limbs. He can be rebuilt from a Cybertronic truck cab with a trailer-mounted, pressure-launch dual-missile cannon (with electronic lights and sounds) to a robot, to basically whatever you feel like doing with the parts.
Unfortunately, due to the slow performance of the Built to Rule line overall, the Energon versions only had a limited, test-market release initially in and around Cincinnati, Ohio. The sets later filtered out into many Tuesday Morning and Ollie's chain stores at drastically dropped prices.
Cybertron
Optimus Prime (Leader, 2004, 2005)
Japanese ID number: GC-01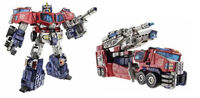 Cybertron Optimus Prime transforms into a heavily-armed fire truck of made up origin. The wings and guns can be rearranged so the fire truck has a flight mode. Like Robots in Disguise Optimus Prime, the forward section of the fire truck detaches to transform into his standard robot mode, while the rear 'trailer' portion becomes a battle station (if you squint).
The trailer can combine with the standard robot mode to form a massive, winged backpack for the toy's Super Mode. A lever on the back of Optimus Prime's head raises the traditional Prime faceplate, covering his Optimus Primal-style mouth.
When a Cyber Planet Key is inserted into the large, rectangular electronic rail gun, the panels covering it open up and a different sound effect is played when the firing button is pressed. An LED also lights up. When a Cyber Key is inserted into the cannon that the rifle can attach to, two spring-loaded missile launchers pop out.
The Japanese release (Galaxy Convoy) featured a few additional paint applications, and the backpack's wings are attached by a metal hinge, and therefore cannot be removed.
In Super Mode, Optimus Prime can combine with Leobreaker to form "Savage Claw Mode", or Wing Saber to form "Sonic Wing Mode".
Optimus Prime (Burger King)

Optimus Prime (Legends of Cybertron, 2005)
This very simplified version of Cybertron Optimus Prime has no weapons or trailer, just the front portion of the truck. It transforms into the standard robot mode, with a very similar transformation scheme to the full-sized toy, but cannot form Super Mode, and has no useful articulation of the shoulders.
Galaxy Convoy (metallic) (Legends of Cybertron, 2005)
A special metallic paint version of Legends of Cybertron Optimus Prime was included with the japanese release of Cybertron Metroplex, as a demonstration of their actual size difference as depicted on the television series.
Sonic Convoy (multi-pack, 2005)
Japanese ID number: EX-02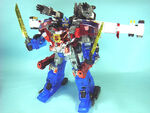 Sonic Convoy was a Toys R Us Japan exclusive redeco of Galaxy Convoy (Optimus Prime) and Sonic Bomber (Wing Saber). Most of Galaxy Convoy's truck cab parts were cast in translucent blue and red plastic, with the trailer being cast in much deeper reds, more metallic silver and chromed red opaque plastics.
The only appreciable difference between EX-02 Sonic Bomber and the regular release was that all of his previous vaccum-metalized chrome parts and red painted parts were now vaccum-metalized or chrome-painted red.
This set also came with Cobybot, a slight redeco of Scrapmetal using the humanoid robot head that is usually discarded when Scrapmetal toys are assembled.
Optimus Prime (Deluxe, 2006)
A recolor of the Supercon Armada Optimus Prime recolored to resemble his the Leader class Galaxy Force Optimus Prime figure. Like the original coloring of this toy, the forearms of early releases of this toy were switched, making the elbow completely useless. However, this was corrected and later releases have his arms bend properly. At the tail end of the Cybertron line, the four planet symbols were added to the truck-mode's cab.
Optimus Prime includes a Cybertron style Cyber Key with the code d56b . Unfortunately, using this code on Hasbro's website actually yields information intended for Demolishor and vice-versa.
Optimus Prime (Deluxe, 2006)
A recolor of the Deluxe Beast Wars 10th Anniversary Optimus Primal toy, this version of Optimus Prime turns into a brown gorilla. It includes a hoverboard which reveals a missile launcher and an assualt blade when a Cyber Key is inserted. His color schema resembles Universe Optimus Primal.
He includes a Jungle Planet style Cyber Key with the code d7s9.
Galaxy Force Optimus Prime (Legends of Cybertron, 2006)
A redeco of Legends of Cybertron Optimus Prime to resemble his the Leader class Galaxy Force Optimus Prime figure, replacing essentially replacing blue with black, yellow with silver and adding the Cyber Key symbol tampographs onto his shoulders, like the leader class version of this deco.
Galaxy Force Optimus Prime (Leader, 2006)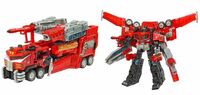 Released at the tail-end of Cybertron, Galaxy Force Optimus Prime is a repaint of the Leader-class toy. The main differences are black replaces the blue plastic and blue paint, tinted translucent parts replace the translucent blue parts, and the toy's rifles, rail gun covers, missile launchers and leg guns being cast in red plastic. The unique Matrix-shaped Cyber Planet Key is finally painted gold.
The shoulders are adorned with the four planet symbols of the Cyber Planet Keys, supposedly to represent Optimus Prime as the leader of all remaining Transformers.
The 'Galaxy Force' addition to Optimus Prime's name is in reference to the journey the character takes at the end of the Cybertron cartoon series, as well as a reference to the Japanese version of the cartoon.
Attacktix
Super Optimus Prime (Galactic Showdown, 2006)
Attacktix ID number: SVT05
Faction: Autobot
Class: Leader
Special: Recover - 8/26 (31%) success ratio
Point Cost: 40
Base Speed: 4
Attack Type: Shooter (Heavy Energy Blast)
What can one say about a beast of a figure like Attacktix Super Optimus Prime? With the biggest missile, and probably the best defense in Attacktix Super Optimus Prime is a devastating figure. This version of the figure is the Gold-based available only in the Star Wars vs. Transformers pack.
The SVT05 version of Super Optimus Prime has a gold base and a different power to the Booster version. He's able to recover -- standing up if you have another figure in play. In tournament play only one gold-based Attacktix figure may be used per team.
The mould has four points of articulation; head, shoulders and waist.
Super Optimus Prime (Booster, 2006)
Attacktix ID number: TF13
Faction: Autobot
Class: Leader
Special: Transform - 8/26 (31%) success ratio
Point Cost: 40
Base Speed: 4
Attack Type: Shooter (Heavy Energy Blast)
The booster version of Super Optimus Prime is nearly identical to the normal version except that it has a black base and a different power. Its power allows you to summon Super Optimus Prime's vehicle form from you backups -- transforming the figure.
Super Optimus Prime (Vehicle) (Booster, 2006)
Attacktix ID number: TF14
Faction: Autobot
Class: Leader
Special: Transform - 20/26 (77%) success ratio
Point Cost: 30
Base Speed: 8
Attack Type: Shooter (Small Missile)
Based on Cybertron Optimus Prime fire truck mode, this figure is basically a support figure for your Super Optimus Prime robot mode figures. The figure's very reliable Transform power allows a player to get the expensive 40 point Super Optimus Prime figure into play for only 30 points.
The vehicle mode figure sits on a raised platform that can rotate 360 degrees, and his ladder has limited articulation. His high speed makes him one of the fastest shooters in the game.
Trivia
Mass: 18,960 lbs
Robot height: 22' 11"
Robot top speed: 31 mph
Vehicle height: 8' 3"
Vehicle top speed: 125 mph
Vehicle power: 700 hp @ 2500 rpm
One of the earliest Armada Optimus Prime concepts depicts him as being an ENORMOUSLY HUGE MONSTER TRUCK. Makes one wonder about the origins of the "Monster Convoy" inscription on Super Base Optimus Prime's tires.
For at least part of the Energon animated series, the CGI model for Optimus Prime's handgun resembled an oversized six-shooter rather than the actual toy's chamber-less handgun for unknown reasons.
External links

You left a piece out!
---
This article is a stub and is missing information. You can help Teletraan I: The Transformers Wiki by expanding it.
Community content is available under
CC-BY-SA
unless otherwise noted.