Optimus Prime is the leader of the evil Autobots from the "Shattered Glass" universe.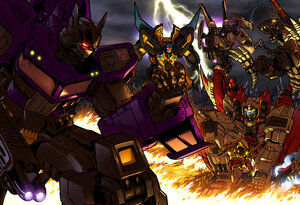 Optimus Prime is the sadistic, tyrannical leader of the evil Autobots, a cruel and ambitious villain whose plans fall nothing short of universal conquest. First stop: Earth! The only thing standing in Prime's path to domination is Megatron, a young and noble Decepticon willing to lead a small band of rebels in a fight for freedom.
He would appear to be fond of the catchphrase "'Til all are gone!", since he's got it painted on his altmode's aero fairing (which is appropriate, since it transforms into his death-dealing ion blaster). He is also clearly insane, given to talking to corpses, but nobody quite has the lugnuts to say such a thing to his face.
Fiction
Toys
Notes
External links