Optimus Prime is an Autobot in the Transformers Animated continuity family.
Optimus Prime is a relatively naive and idealistic young leader, prone to long-winded "inspirational" speeches, who leads a small and inexperienced Autobot space bridge maintenance team under the supervision of Ratchet. Despite his humble "Bot Next Door" persona, he performs his job with a dedicated seriousness. He transforms into a fire engine and wields a kick-ass, rocket-powered, extendable battle axe.
His superior, Ultra Magnus looks on Optimus as a failure, while Sentinel Prime sneers at Optimus's lowly repair job. More than anything, Prime wishes to be a hero. He's got the speeches, he's got the moves... but what is he missing? Maybe The Touch?
"So, this is what it feels like to be a hero."

―Optimus upon his death
Fiction
Transformers Animated cartoon
This section covers fiction that is ongoing. It will be added to as the story progresses. If it isn't current, you can help by updating it.
Voice actor: David Kaye (US), ? (Japan)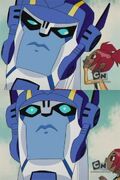 Prime and his crew came across the All Spark while repairing a Space Bridge and brought the artifact aboard their ship. During transport, they were discovered by the Decepticons, and Megatron came after them. He proved too strong to take head on (in spite of his subordinate planting a bomb on his chassis), but when the Autobot ship neared Earth, Prime knocked Megatron overboard. The Autobots stayed in stasis for the next 50 years until they were accidentally awakened by an apparent intruder. Optimus and the Autobots took on Earth vehicles as alternate modes in an attempt to assimilate with what they believed to be the local dominant culture. Prime and his team were able to dispatch a bio-mechanical insectoid that was attacking Detroit. They were hailed as heroes for it. Eventually, Starscream came for the All Spark, and Optimus found that the schemer could pack quite a punch. The Autobot officer was still able to keep Starscream from getting the artifact, though at the cost of his life. However, he was quickly revived by Sari and her All Spark-influenced key. Later, the Autobots helped rebuild parts of Detroit that were destroyed in their battle with Starscream. Transform and Roll Out!
Toys
Transformers Animated
CYBERTRON Mode Optimus Prime (Deluxe, 2008)
Based on his pre-Earth Cybertronian look, the first version of Animated Optimus Prime transforms into a half-track Cybertronic truck loosely based on the Mitsubishi Fuso Hybrid concept truck. As a half-track, instead of rear wheels, he has molded, caterpillar-linked tracks with smaller wheels inside for rolling along smooth surfaces. Prime's axe weapon is stored by partially folding the axe at the grey hinge near the handle peg, then placing the handle peg in a hole on the back of the cab (actually his two fists' holes, thus helping them holding in position) with the blade facing down and a grey peg facing up, acting as a "fifth wheel" (known as a trailer hitch among fans), should one find a suitable trailer to attach onto it.
In robot mode, his head has a retracted mouthplate. He has a superb range of articulation, as is the standard with Animated toys, due to the extensive use of ball joints and universal hinge joints. As stated above, the hitch assembly becomes his axe, which can be wielded with one blade (for the rocket-boosted look) or have the single blade split to form a double-bladed axe. The truck roof is mounted on his left arm as a shield or can be separated in two and be attached to the axe to become giant energon blades.
Optimus Prime (Voyager, 2008)
Based on his Earth look, a futuristic fire truck. His rear portion transforms into a giant gun and wings, but you can remove it in both modes. Also, the giant opened-up energon axe will be included.
Optimus Prime vs. Megatron: The Battle Begins (Deluxe, 2008)
An extensive retool of his Cybertron mode toy to resemble his Earth mode. This Prime comes in a two-pack with a redecoed, scaled-down, less-articulated verison of the Voyager Cybertron mode Megatron toy, as well as a DVD containing the "Transform and Roll Out!" episode and adverts for the toys. This Prime also comes with a giant axe weapon and has black splotches momlded onto it as battle damage.
Trivia
Optimus was killed off after only three episodes and revived 1 minute and 15 seconds later. That's gotta be a new record.
I cannot remain in this unacceptable operational status!
---
This character article is a stub and is missing information. You can help Teletraan I: The Transformers Wiki by expanding it.