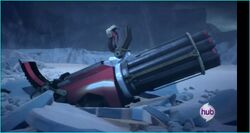 After being upgraded to a new body, Optimus Prime obtained a new machine gun which served as his primary weapon for Season 3 of Transformers: Prime.
History
In Rebellion, Optimus used the weapon to a devastating effect on a group of Vehicons upon his return.
In Deadlock, Megatron kicked Optimus's machine gun off the Omega Lock.
Trivia
Optimus's mini gun was not seen in Predacons Rising. It is presumed to be destroyed or lost.
Gallery
Community content is available under
CC-BY-SA
unless otherwise noted.