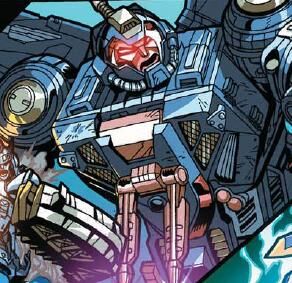 Omega Doom is the ultimate weapon of the Autobot tyrant Optimus Prime.
Fiction
Fun Publications
Optimus Prime learns that Megatron has supposedly been killed by watching a broadcast from the Autobot reporter Rook. When Kup leads the Autobots Camshaft, Hound and Warpath in an attempt to kill Optimus, he easily defeats the four rebels. Reunification
Alpha Trion then attempts to kill Optimus, but Optimus uses Omega Doom against the ancient mech. Prime then sends Doom against the Decepticons.
Toys
Although no toy exists for Omega Doom, his form is based on that of the toy for Cybertron Menasor, with a head that looks like that of Generation One Omega Supreme. His colors seem to be taken from Black Zarak.
Community content is available under
CC-BY-SA
unless otherwise noted.