The name or term Oil Slick refers to more than one character or idea. For a list of other meanings, see Oil Slick (disambiguation).
Oil Slick is a Decepticon from the Universe series.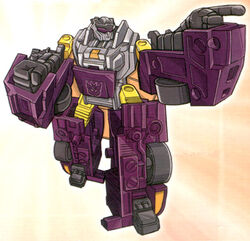 Lured by promises of power, Oil Slick has abandoned the Autobot code and joined with the Decepticons under the command of Unicron.
Toys
Universe
Crystal Widow vs Oil Slick (Multi-pack, 2004)
Available only in a K-Mart exclusive 2-pack with the Autobot Crystal Widow, Oil Slick is a redeco and minor retool of the Armada Side Swipe mold, with the chest plate's molded Autobot sigil replaced with a molded Decepticon sigil.
He comes with a Search and Destroy Robot mini-partner that can store in a flip-out section of the back end of Oil Slick's vehicle mode. Pressing down on the sigil plate in vehicle mode swings his car hood halves forward in a spring-loaded attack. These hood parts end up on his arms in robot mode, giving him a spring-loaded attack in that mode. Attaching the Search and Destroy Robot (or any other Mini-Con mold) to the Powerlinx plug on his back activates a "punching" action gimmick in his left arm.
External Links
Community content is available under
CC-BY-SA
unless otherwise noted.