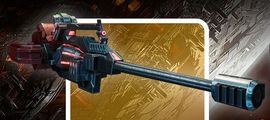 The Nucleon Charge Rifle is a great weapon for sniping. Equipped with a 10x scope and near unlimited range, a skilled wielder can take out a squad from afar before they even know what's happening.
History
Nucleon Charge Rifles were used during the later days of the Great War between the Autobots and Decepticons. They replaced the null rays used earlier.
The Nucleon Charge Rifle is available in escalation along with all the other weapons from Fall of Cybertron.
Notes
This weapon has the following base in-game stats:

Damage: 7
Range: 10
Accuracy: 9
Rate of Fire: 2

This weapon can be modified in multiplayer/escalation with the following upgrades:

Hyper Interlink - Speeds up reload time
Ion Cartridge - Increases the amount of ammo within a clip
Quantum Stabilizer - Completely eliminates recoil
Dominator - reduces charge time when kills are chained together
Community content is available under
CC-BY-SA
unless otherwise noted.