Noah is a human from the Generation One continuity family.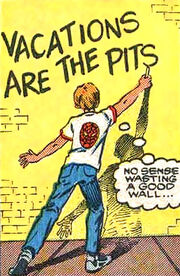 Noah Acton has a penchant for graffiti. He's kind of a brat.
He also likes Spider-Man.
Fiction
Marvel Comics continuity
Noah's wall-defacing antics while on vacation with his family gave the Battlechargers the idea to spend their time defacing human landmarks. Noah and his family were followed by the Decepticons to a stadium in Wyoming, Mount Rushmore, the Gateway Arch, the Washington Monument, and Independence Hall. Though his parents worried about the robots showing up again, Noah thought that was the best part. The vacation/graffiti streak ended in a battle at the Statue of Liberty between the Battlechargers and RAAT. Decepticon Graffiti!