The name or term Soundwave refers to more than one character or idea. For a list of other meanings, see Soundwave (disambiguation).
Soundwave is a Decepticon in the Generation 1 continuity. In the Japanese series, he later took the name Soundblaster.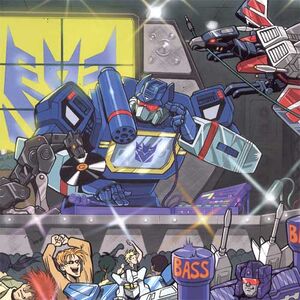 Soundwave is one of Megatron's most reliable troops, and has positioned himself comfortably and irreplaceably in Megatron's upper command structure, and stands at the Decepticon leader's side as confidant. Soundwave guards his place in the hierarchy fiercely. Though loyal to Megatron, the other Decepticons see him as a two-faced snake. As Communications Officer, Soundwave sees and hears all, and will not hesitate to use blackmail to keep himself high in Megatron's esteem. The other Decepticons wouldn't mind abandoning him on the battlefield -- if they thought Megatron would let them get away with it.
Soundwave commands a legion of cassette troops to carry out tasks big and small. Sometimes he lets them all out to watch impromptu gladiator games.

French-Canadian name: Radar
Italian name: Memor
Fiction
Animated continuity
The Transformers
Voice Actor: Frank Welker (US), Issei Masamune (Japan)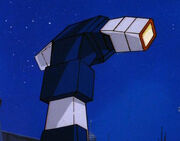 Prior to his arrival on Earth, Soundwave had the questionably useful altmode of a space-age lamp-post. This allowed him to get as close to Autobot headquarters as the street leading into Iacon, but thankfully his chest-dwelling minion Laserbeak could snoop even closer. The loyal Laserbeak overheard talk of the Autobot mission to seek new energy sources off Cybertron, which prompted the fateful Decepticon interception mission that eventually landed both teams on Earth.
Immediately after the Transformers awakened on Earth in 1984, Soundwave played an essential role in the generation of energon cubes and the formation of plans for a new space cruiser to return the Decepticons to Cybertron. He sounded really cool when he talked about these, too. Soundwave was reformatted as a portable casette player, which allowed him to dupe a grabby and none-too-questioning Spike Witwicky into carrying his shrunken form into the Ark headquarters. This was to happen many times to the seemingly tape-deck addicted citizens of Earth.
Later, he used his mind-reading talents to acquire an antimatter formula for the Decepticons from the brain of Chip Chase. One of Soundwave's most notable misadventures came in in 1985, when, operating a plan conceived by Starscream, he brainwashed humans with ultrasonic vibrations inside the Decepticon-built night club Dancitron in New York City, leading to a confrontation with his Autobot Communications Officer counterpart, Blaster, beginning a lasting rivalry between the two.
Soundwave rarely displayed much emotion, and only infrequently exhibited any of the cunning and self-serving traits described in his tech spec. He always came across as extremely loyal to Megatron, even going so far as to recover the mortally wounded leader after being left for dead at the Battle of Autobot City in 2005. But while Soundwave was loyal, he was far from stupid, and kept his mouth shut when Megatron was subsequently ejected into space, and although he did suggest himself as a replacement leader, he again loyally served Megatron when he returned as Galvatron.
In the year 2006, although operating in a less prominent capacity for most of the time, Soundwave played a prominent role in Galvatron's attempt to learn the secret of a sonic weapon on the planet Eurythma, where sound and music were the way of life, leaving Soundwave entranced by the planet's perfect melodies. Recording each piece of the harmony that formed the devastating sonic effect, Soundwave was defeated when the Eurythmans countered the harmony with white noise, and was again pulled into a confrontation with Blaster, who erased his recordings.
The Transformers manga
Soundwave appeared most prominantly in the second issue of the "Fight! Super Robot Life Transformer" manga. Soundwave and his cassettes had stolen some top secret information and were being pursued through Tokyo by the Autobots. His chase eventually ended when Bumblebee got the drop on him with his patented "Bumble-Kick" and shattered his chest and the stolen information within. The manga maintained something resembling continuity: during his appearance in the third issue of the book, Soundwave was shown to have bandages over his chest. Adorable.
Headmasters
In the early episodes of the Japanese Headmasters series, Soundwave and Blaster engaged in their final clash in the Arctic circle as the Autobots and Decepticons were in the process of searching for the missing Autobot Matrix of Leadership. The two opponents inflicted fatal damage on each other, and Soundwave's body exploded even as Blaster collapsed, but his fragments were recovered by his cassettes. Using reconstructive technology from the planet Master, the leader of the Decepticon Headmasters, Scorponok successfully rebuilt and resurrected Soundwave as Soundblaster - essentially identical to his former self, except for his predominantly black color scheme. As Soundblaster, Soundwave served the same role as he had ever done under the leadership of Galvatron and later Scorponok, frequently embarking on spying missions with Ratbat.
Headmasters manga
After the Decepticons had been vanquished from Earth in the last episode of the anime, Mega Zarak ordered Soundblaster to remain on Earth in secret to act as a spy for the Decepticons. Soundwave made his presence and intentions known almost instantly (not a very good spy) by kicking Wheelie square in the face and taking the Witwicky family hostage. Strangely enough, the Autobots considered these acts to be hostile. Chromedome was left powerless to do anything but surrender, as Slugfest and Overkill brutalized Spike and threatened Carly. Daniel finally snapped and beat the living crap out of the two Cassette dinosaurs, leaving Soundblaster open to Chromedome's poorly named "Master-Chrome Hurricane Throw to the End of Hell!" Chromedome chucked Soundblaster over the horizon where he landed near the rogue Decepticon, Sixshot.
Cybertron
Sideways was listening to music using a tape deck resembling Soundwave. After a new Planet X is found, Cybertron Soundwave held tape deck Soundwave in his arms.
Marvel Comics continuity
(Note: Events from the UK-only comic stories are in italics.)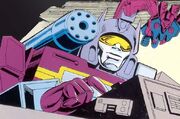 In the Marvel Comics, Soundwave is slightly truer to his tech specs, and somewhat less loyal to Megatron, at one point working for both Shockwave and Megatron simultaneously when the two were at loggerheads over the leadership, and later becoming joint Decepticon leader with Starscream in the Earthforce strips.
Kid Stuff Talking Story Books continuity
Voice actor: Unknown
In When Continents Collide, Megatron calls Soundwave a "blundering tape-filled idiot." This is notable because it is hilarious. Also, Soundwave is really, really whiny in these stories.
Beast Wars
Soundwave is shown among the many Transformers strewn about the interior of the Ark when the Predacon Megatron infiltrates the ship on his mission to destroy Optimus Prime.
In the 3H Tales of the Beast Wars comics, Soundwave is one of the ancient warriors who appears from Jn'Wan to help battle the warlord Shokaract.
Dreamwave Generation 1 continuity
Soundwave was among the Decepticons who quickly joined Shockwave's forces upon returning to Cybertron. It seems clear, however, that Soundwave had little loyalty to him, as he readily joins up with Starscream when the Seeker decides to return to Earth and take over. Though Soundwave feigned subservience to Starscream, it is later revealed that he had been serving Megatron the entire time in secret.
Devil's Due G.I.Joe vs. Transformers comics
IDW comics continuity
Toys
Generation 1
Soundwave (Decepticon, 1984/1985)
Japanese ID number: 17
Came with Buzzsaw in the US and Rumble in Japan. Prior to his release as a Transformer, Soundwave was a Microchange Cassetteman Sony Walkman, which came with a set of non-functioning headphones to listen to the silence of his non-functioning tapes. His weapons turned into imitation batteries to power his nonexistent circuitry.
VS-Y Soundwave came with Rumble and Grimlock
Soundblaster (Decepticon, 1987)
Japanese ID number: D-101
Came with Buzzsaw
Soundwave with Wingthing (Action Master, 1990)
Generation 2
Machine Wars
Universe
Soundwave & Space Case (Ultra, 2004)
The Machine Wars version of Soundwave was redecoed for release in the Universe line in an Ultra-level two-pack with Space Case. Due to the lack of fiction, it is possible that this incarnation is in fact an alternate-universe version of Soundwave, or possibly a new character altogether.
Titanium
A 6" Soundwave with Laserbeak was shown in Hasbro's booth at SDCC 2006.
Classics (2006)
A reissue version of the original toy, Soundwave is a Toys'R'Us exclusive, packaged with Laserbeak and Ravage. It is notable for using the double cassette door from the Soundblaster reissue.
Unreleased
In Generation 2, a redeco of the Laser Cycle Road Pig was planned as Soundwave, but ultimately never released, one of many planned redecos that never made it. Some packaged samples do exist.
Merchandise
Trivia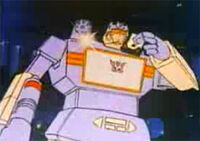 Though Soundwave's toy is a microcassette recorder, his fictional appearances depict him as a stereo cassette deck or Walkman. (Likewise, his microcassette tapes are depicted as regular audio cassettes.)
Animation from early Transformers commercials featured a Soundwave model colored in very light blue, versus the dark blue used later. Also, instead of the cassettes ejecting themselves from his chest, he reached into his chest compartment with his own fingers and threw the (tiny) tapes into the air.
The Marvel US comics chose a purple scheme for Soundwave. This could have been an error, an early look for him that was dropped in other media, or perhaps an attempt to distinguish him from the other Decepticons, who were mostly blue (especially since blacks also ended up as blues in the industry's then-limited color pallette). The Marvel UK comics colored him blue like everywhere else.
External links

You left a piece out!
---
This article is a stub and is missing information. You can help Teletraan I: The Transformers Wiki by expanding it.