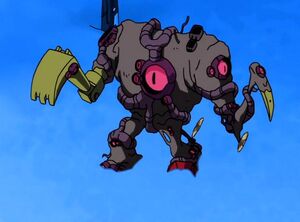 Prowl, Bumblebee and Sari get more than they bargained for when they head out to the remote woods to investigate a mysterious energy signal.
Synopsis
Stats
Featured characters
(Numbers indicate order of appearance.)
Quotes
Bumblebee: You said to pack the bare essentials!
Prowl: Since when are surround-sound speakers, a strobe light, and a hand-held media player "bare essentials?"
Bumblebee: You should've seen what I left back at the plant.
Prowl: Where did you find room for all of this junk?
[Bumblebee taps his fingers uncomfortably]
Bumblebee: I'd...rather not say.

—Awkward conversation between Bumblebee and Prowl.

"First we must determine this creature's intentions."
[Creature knocks Prowl aside without provocation]
"I'm gonna say 'hostile'."

—Prowl and Bumblebee meet the monster.

Bumblebee: Hey! Why don't you pick on someone your own size?!
[Creature swipes at Bumblebee and Sari]
Bumblebee: Okay. Maybe we're a little unclear on the concept of "your own size".
Sari: Maybe you should stop talking logic to a creature that has no head!

—Bumblebee and Sari.

"Monsters are real? Tutor Bot is such a liar!"

—Sari Sumdac's faith in Tutor Bot is shattered.

"Attention, barnacle monster! Come out with your hands over your...okay, you don't have a head. But you get the idea."

—Bumblebee instructs the creature to surrender.

Sari: And then, they were back to normal, like nothing ever happened. Meanwhile, I'm stuck riding home with no dry clothes and the only Autobot whose car mode doesn't have a heater!
[Sari sneezes]
Optimus: You showed a lot of courage and ingenuity, Sari. And hopefully, you'll stop... backfiring soon.
Sari: Hel-lo, it's called "sneezing".
[Sari sneezes, then blows her nose]
Bumblebee: I don't even wanna know what that's called.

—The Autobots discover the concept of the common cold.
"Megatron will be so surprised!"

—Issac Sumdac dooming us all.
Other notes
Continuity errors
If space barnacles are killed by heat, how did any survive atmospheric entry?
Transformers references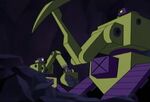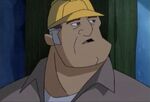 Sari remarks that Bumblebee has no heater. Remember that 'Bee took his alternate mode from Captain Fanzone's car... and if any car in Detroit would be old and decrepit and lacking basic amenities, it'd be Fanzone's.
Real-world references
Miscellaneous trivia
So... what happened to that mine worker, anyway?
Ratchet and Bulkhead, while mentioned, make no appearances in this episode.
Tutor Bot is mentioned, and in the voice credits for the episode, but does not actually appear.
Why didn't Sari get scalded by hot water when she soaked Prowl and 'Bee?

Thanks for helping me... pull myself together.
---
This cartoon episode article is a stub and is missing information. You can help Teletraan I: The Transformers Wiki by expanding it.