My Little Pony is a girls' toy in the movie continuity family.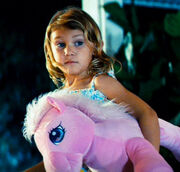 "My Little Pony" is a girl's toy brand, involving representations of cartoon horses.
How do we know their name? Well, er...
Fiction
Transformers (2007)
When a hopeful little girl encountered what she thought was the Tooth Fairy climbing out of her family's swimming pool, she took her pink plushie My Little Pony with her. Transformers (film)
Age of Extinction
The KSI scientist with the hair playing with the Transformium and made it into a My Little Pony toy, he then turned it into a gun.
Notes
In Transformers Animated, Professor Princess' flying unicorn doll Powdered Sugar is a homage to My Little Pony toys.
Many Generation One voice actors, including Frank Welker, Susan Blu, and Charles Adler, also worked on the first My Little Pony TV series
In an interview, Buzz Dixon claimed that his initial "punch-up" of the script for My Little Ponies: The Movie would have featured the ponies encountering characters from The Transformers, among other Hasbro franchises. "At one point one of the Little Ponies had to go looking for...something or someone, I forget. I suggested she encounter some of the Transformers and Joes in her search, specifically, a scene where she flies up to Shipwreck who is drinking some amber fluid from a bottle."
External Links
Community content is available under
CC-BY-SA
unless otherwise noted.