My Little Pony is a girls' toy in the movie continuity family.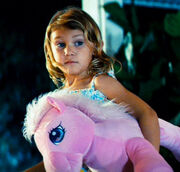 "My Little Pony" is a girl's toy brand, involving representations of cartoon horses.
How do we know their name? Well, er...
Fiction
Transformers (2007)
When a hopeful little girl encountered what she thought was the Tooth Fairy climbing out of her family's swimming pool, she took her pink plushie My Little Pony with her. Transformers (film)
Age of Extinction
The KSI scientist with the hair playing with the Transformium and made it into a My Little Pony toy, he then turned it into a gun.
My Little Pony/Transformers
In July 2020, IDW Publishing released the first issue of the My Little Pony/Transformers crossover comic book between the My Little Pony Friendship is Magic and Transformers G1 franchises. A spell cast by Queen Chrysalis interferes with a malfunctioning Space Bridge, connecting the two universes.
Notes
In Transformers Animated, Professor Princess' flying unicorn doll Powdered Sugar is a homage to My Little Pony toys.
Many Generation One voice actors, including Frank Welker, Susan Blu, and Charles Adler, also worked on the first My Little Pony TV series. In 2018 and 2019 during the final two seasons of My Little Pony Friendship is Magic, Maurice LaMarche voiced Chancellor Neighsay. LaMarche voiced several characters in Transformers: Rescue Bots and Transformers: Robots in Disguise.
In an interview, Buzz Dixon claimed that his initial "punch-up" of the script for My Little Ponies: The Movie would have featured the ponies encountering characters from The Transformers, among other Hasbro franchises. "At one point one of the Little Ponies had to go looking for...something or someone, I forget. I suggested she encounter some of the Transformers and Joes in her search, specifically, a scene where she flies up to Shipwreck who is drinking some amber fluid from a bottle."
In the movie My Little Pony Equestria Girls, Pinkie Pie (the Earth pony) describes how Twilight Sparkle must be feeling and curls up into a ball. When she gets back up, her limbs move in a manner reminiscent of an Autobot or Decepticon changing form, with the sound effect playing.
External Links