Mudslinger redirects here. For the Power Core Combiners character, see Mudslinger (PCC).
Mudslinger is an Autobot Micromaster from the Generation One continuity family.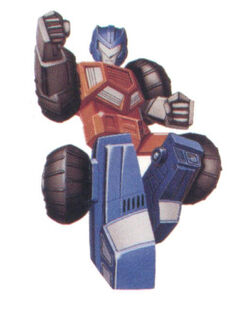 Mudslinger is the macho tough-guy of the Off Road Patrol. Powertrain wishes he would learn to take a little constructive criticism. Things like, "Don't pick fights when we're trying to be covert."[1]
Note: In Japan, Mudslinger, like all Micromasters, had no discernible personality outside of "chirpy little kid".
Japanese name: Footdemo

French name (Canada): Garde-Boue
Fiction
Marvel Comics continuity
Mudslinger was despatched to Earth, along with the rest of the Off Road Patrol and the Race Car Patrol when Optimus Prime requested reinforcements. Charged with investigating creature sightings that were believed to be Decepticons, Mudslinger searched a swamp area and came across Skullgrin and Iguanus arguing over whether to kill Cecilia Santiago or not. The rest of the patrol joined them and, while his teammates took care of Skullgrin, Mudslinger managed to destroy the Decepticons' storm maker machine, although it was too late to stop the storm running its course. King Con When Roadhandler led the other Micromasters in fostering better relations with humans, Mudslinger found himself pressed into service as a paddy wagon when Tailspin apprehended some crooks. The Interplanetary Wrestling Championship

I want to tell you about the Transformers!
---
This character article is a stub and is missing information on their fictional appearances. You can help Teletraan I: The Transformers Wiki by expanding it.
Dreamwave comics continuity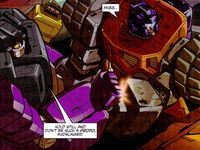 Created after the launch of the Ark in a joint venture by the Autobots and Decepticons, Mudslinger could be seen hanging out in Little Iacon with his fellow Micromasters. He was getting a tattoo from Road Hugger. The Gray Race Later, he was present during an attack of the Insecticons on the Micromasters. Recipe for Hate Finally, Mudslinger partook in a march of the Micromasters to end a battle between Autobots and Decepticons. Victims of the Revolution
Note:
Road Hugger appears to be tattooing the Blendtron symbol on Mudslinger's arm. The letters page in Victims of the Revolution explained that it came to Road Hugger in a dream after overindulging on high-grade energon.
Toys
Generation One
Off Road Patrol (Micromaster Patrol, 1989)
Japanese ID number: C-335
Mudslinger transforms into a blue pickup truck with oversized "monster" tires. He was only available in a four-pack with his teammates Highjump, Powertrain, and Tote.
Footnotes
External links
Community content is available under
CC-BY-SA
unless otherwise noted.