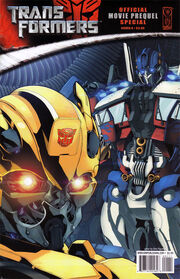 Transformers: Movie Prequel Special is a comic book published by IDW Publishing, reprinting two previous movie prequel comics that had been produced in cooperation with Target. It was released June 18th, 2008.
The two stories appear in the chronological order, which is the opposite order of their original release, and are given titles where previously they had none:
Chapter One: "Planetfall" (previously the second Target-sponsored "Transformers Movie Prequel".)
Chapter Two: "Interlude" (previously the first Target-sponsored "Transformers Movie Prequel".)
The hidden Robo-Vision codes included in the original versions have been removed (except for one on page 16 that has been overlooked), as that promotion had long since ended. Additionally, a Target logo seen on a passing truck was replaced with the silhouettes of three fighter jets and the letters AH, emulating promotional art for IDW's upcoming All Hail Megatron series.