Motormouth is an Autobot from the Generation 2 portion of the Generation One continuity family.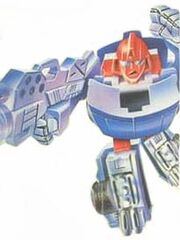 Motormouth has an enormous engine, and an ego to match. While his vehicle mode would be useful for transporting materials, he rarely uses it for this purpose, because that might scuff his paint. He often finds himself distracted by the sight of his own reflection, although it's not entirely clear whether this is due to the considerable pride he has in his appearance, or just his extremely low intelligence level. Constructed with minimal brain circuitry, Motormouth is fortunate to possess super-fast speed that lets him tear up the streets to elude the Decepticons. Although in truth he'd like to tear them up, too.

Italian name: Bufalo
Toys
Generation 2
Motormouth (Go-Bot, 1995)
Part of the first wave of Go-Bots, Motormouth transforms into a Ford F150 Flareside pickup truck. Using through-axle construction for his wheels, he is compatible with most "Hot Wheels" and "Matchbox" playsets and tracks. The initial assortments gave Motormouth clear-plastic robot-mode parts, but the second wave (with Optimus Prime and Megatron) gave him opaque plastics in the same colors.
The same mold was redecoed in Generation 2 for the Go-Bots version of Ironhide, then for Robots in Disguise Spy Changer Ironhide, the Universe Autobot Ironhide (whew!), and the second Universe incarnation of Hoist.
External Links