Mojo is a little doggie in the Movie continuity family.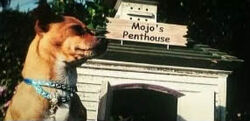 Mojo is a chihuahua owned by Sam Witwicky. He is coddled by Sam's mom (much to Sam's chagrin), and apparently has a very weak bladder.
Fiction
Transformers (2007)
When the Autobots went to the Witwicky residence, Mojo made the mistake of releasing lubricant onto Ironhide's foot. Upon discovering this, Ironhide requested permission to terminate the "rodent", but Sam Witwicky told Ironhide that humans love chihuahuas. Ironhide agreed to spare it, though complained that the lubricant would cause rust.

You left a piece out!
---
This article is a stub and is missing information. You can help Teletraan I: The Transformers Wiki by expanding it.