The name or term Mixmaster refers to more than one character or idea. For a list of other meanings, see Mixmaster (disambiguation).
Mixmaster is a Decepticon Constructicon from the live action film continuity family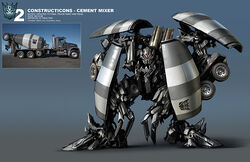 Resident chemist and explosives expert for the elite among the Decepticons, Mixmaster has spent his entire life learning all there is to know about chemical interaction. He can make thousands of poisons, explosives, and deadly gases from the materials around him. The other Decepticons rely on him to fashion powerful warheads for their missiles and dangerous venom in which to coat their blades.
Fiction
Revenge of the Fallen film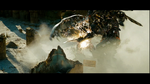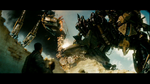 At one point, he, Rampage, Long Haul, Ravage, and Scrapmetal dive into Laurentian Abyss to locate Megatron's corpse. After killing one of their own they succeed in reactivating their fallen leader with the help of The Doctor.
Later, he stands atop a bridge, knocking down a U.S. flag pole.
During the battle in Egypt, Mixmaster corners Sam, Mikaela, Lennox and Epps and destroys at least one tank with a cannon he possesses and pins down the rest of them. He is only stopped when Jetfire suddenly joins the battle. Jetfire cuts him in half before he can react, pinning him down and saying "Let me show you how we brought the pain in my day!" before stomping off Mixmaster's head, killing him. Transformers: Revenge of the Fallen
Toys
Transformers: Revenge of the Fallen
Mixmaster (Voyager, 2009)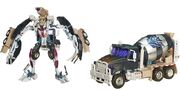 Mixmaster is, but not technically, a Triple Changer. He is able to transform into a cement truck and what seems like a mobile turret. Good luck with that. The transformation in the instructions is not possible as pictured, because a joint connecting the cab to the body was installed ( on all releases of this toy) upside down from what the directions say, making the turret mode in the directions impossible.
In turret and humanoid mode, he has big plates from his truck mixer section that are vague about exact placement, making specific poses in his art and directions very difficult to reproduce.
His mech-alive gimmick are two "spinning gears" on his legs which are, in reality, his wheels.
Back Road Brawl (Toys R Us Exclusive Multi-pack, 2009)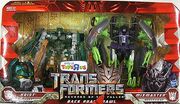 Mixmaster is now colored like his Generation One counterpart with a new head (which is actually an old prototype model). He comes with Hoist.
Constructicon Devastator (Supreme, 2009)
Mixmaster is a cement truck that forms the head of Devastator.
This toy does not have its own individual humanoid mode.
Constucticons / Devastator (Legends, 2009)
Mixmaster is a smaller cement truck able to transform and also combine with the other Constructicons to make a smaller but more accurate Devastator.
Mixmaster vs. Ironhide (Robot Heroes 2009)
As with all Robot Heroes, these are non-transforming static figurines, with a "chibi" or "Super Deformed" styling.
Trivia
Although his cement barrel kibble appears to serve as armor, it's surprisingly frail, being seen easily ripped off by a shot from a tank.
When the other Mixmaster assembles with other Constructicons to form Devastator, a driver can be seen inside.
Interestingly, his cannon mode does appear in the film, just seconds before he's slagged by Jetfire. It appears to be conventional ammo, because it leaves a trail of smoke and fireball.
He does have some lines in the film, before he transformers into the cannon he yells "Listen up!" "Oh yeah? OH YEAH?!!", "Take THIS".
Mixmaster has a hood ornament of a bulldog, symbol of Mack company, with the face replaced with Decepticon symbol.
External Links
I cannot remain in this unacceptable operational status!
---
This character article is a stub and is missing information. You can help Teletraan I: The Transformers Wiki by expanding it.