Mr. Kaiser is a human character in the Masterforce portion of the Generation One continuity.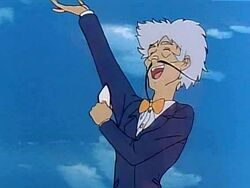 Mister Kaiser is a teacher at the International School, although it is not known what subject he teaches. His worst student is the Autobot Headmaster Junior Cab, who is a genius at playing pranks, but an idiot at everything else. Kaiser takes his royal student's failings personally, and has vowed to bond with his stupidest student, and thus inspire him to perform. Cab, in turn, has taken to avoiding Mr. Kaiser like the plague, and trained his pet parrot and armadillo to attack him on sight.
English/Malay dub name: Mister San
Note: Yes, StarTV elected to translate "Kaiser-san", which means "Mr. Kaiser", as "Mr. San". Believe it.
Fiction
Super-God Masterforce cartoon
Cab had to do detention with Mr. Kaiser after getting a zero on his test. After the detention, Mr. Kaiser doggedly tracked Cab down to deliver a letter from his caretaker Donq, and remind him the distress he was causing his elderly teacher. Cab accepted the letter, but appeared unaffected by the guilt trip. A Fierce Battle!! The Autobots Are in Trouble
Community content is available under
CC-BY-SA
unless otherwise noted.