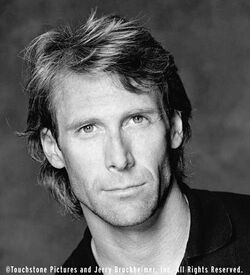 "Michael Bay's catchphrase regarding Transformers 2[1]"

―Remember the heart and the magic!
"Michael Bay on the budgets for other 2007 summer blockbusters, Transformers DVD commentary"

―I don't even know how you spend that much money on a movie.

Michael Bay (February 17, 1965 -) is an American film director and producer. He is the director of Dreamworks' Transformers live-action movie. He is better known as the director of several highly successful blockbuster motion pictures, such as Bad Boys, The Rock, and Armageddon.
At times, other people involved with Bay's films have claimed to be Bay himself. It is not known if they are attempting to protect him from the Romans or not.[2]
He demands that things be AWESOME. And explode. Because explosions are awesome.
Toys
"BayBot," a joking representation of Bay in toy form, was "advertised" in an easter egg on the Transformers DVD. The toy is an Alternators Battle Ravage with a humanoid head and Autobot insignia. And puppies. It's quite disturbing, actually. The toy was created by Hasbro's Transformers design team for Bay, but he had no idea that Paramount DVD had included it as an easter egg joke.
Production
In March 2015, Deadline.com reported that Paramount Pictures was in talks with Oscar winner Akiva Goldsman (A Beautiful Mind) to pitch new ideas for the Transformers franchise's future installments. The studio intends to do what James Cameron and 20th Century Fox have been doing to spawn three new Avatar sequels, and what Disney is doing to revive Star Wars with sequels and spin-offs. Paramount wants to have their own cinematic universe for Transformers similar to Marvel's Marvel Cinematic Universe and Warner Bros.' DC Extended Universe. Goldsman will be the head of the future projects and will work with franchise director Michael Bay, executive producer Steven Spielberg, and producer Lorenzo di Bonaventura to organize a "writer's room" that will incubate ideas for potential Transformers sequels, prequels and spin-offs. The writer's room members include: Christina Hodson, Lindsey Beer, Andrew Barrer, and Gabriel Ferrari, (Ant-Man), Robert Kirkman (The Walking Dead), Art Marcum & Matt Holloway, Zak Penn (Pacific Rim: Uprising), Jeff Pinkner (The Amazing Spider-Man 2), Ken Nolan, and Geneva Robertson-Dworet. Kirkman left the room after just after one day to undergo throat surgery. In July 2015, Akiva Goldsman & Jeff Pinkner were announced as the film's screenwriters. However, on November 20, due to Goldsman's commitments creating a writer's room for G.I. Joe and Micronauts properties, Paramount began to negotiate with Art Marcum and Matt Holloway (Iron Man), as well as Ken Nolan (Black Hawk Down), to write the film. Writers Lindsey Beer and Geneva Robertson-Dworet were also brought aboard for writing duties.
""I think I brought the concern to the movie studio and certainly to the writers. Perhaps...Transformers 5 and 6 movies will go back more to its roots. There was an occasion where one line [in Transformers: Age Of Extinction] which Optimus Prime had, I did not want to say. It was my gut instinct and certainly my commitment to the character... not to say the line. But I was told to say. You can't fight the big boys. I think you all know what that line was.""

―Peter Cullen on a question from a fan on the future of the franchise from Sac-Anime 2015

After Transformers: Age of Extinction, Bay had decided not to direct any future Transformers films. But in early January 2016, in an interview with Rolling Stone, he confirmed that he would return to direct the fifth film, and that it would be his last Transformers film. Paramount Pictures will spend $80 million on production in Michigan in return for $21 million in state incentives under agreements entered into before the state legislature eliminated the film office incentive program in July 2015. In April 2016, Paramount hired cinematographer Jonathan Sela. On May 17, Bay revealed the official title of the film to be The Last Knight on his Instagram account, along with a production video showing a close-up of what is presumably Optimus Prime's face with purple eyes instead of blue, and his face mostly discolored. The official Twitter account shows a 19-second short video in morse code that translates to "I'm coming for you May 31". On May 31, it was revealed that Megatron will be returning for the sequel.
Notes
When the production required a fictional tail serial number to paint on the real MH-53 Pave Low helicopters representing Blackout, Bay decided to use the tail number from his own personal Gulfstream Aerospace G-1159A jet, 4500X.[3]
Michael's computer, as he said, was attacked by hackers that wanted to know the names of Transformers that will appear in the movie. Thus, he made a promise to the fans that he'll reveal these names soon, claiming that "he likes his computer" and "has a lot of secrets... in there".
During a television interview on June 13th, 2007 in Australia on the Ten Network's news hour, Bay stated that Hugo Weaving had recorded his lines as Megatron in Australia while Bay directed him from the U.S. using Apple iChat, and thus, he had never actually met the actor.
Susan Bay, a relative of Michael Bay, is married to famed Star Trek actor (and the original voice of Generation One Galvatron) Leonard Nimoy, and apparently it was due to their substantial contributions to the Griffith Observatory that Michael was allowed to film Transformers at that location.[3]
According to Bay, the human bystander that Megatron flicks aside during the Mission City sequence was Bay himself (one assumes he means it is a CGI digital double made in his appearance).[3] This 'cameo' replaces one he filmed where he was the driver of the silver Mercedes-Benz ML320 that Megatron tosses aside.[4]
Two of Michael Bay's dogs are linked to Transformers. One, Mason, is the dog Miles is seen giving a bath to during the film. A new puppy he got while working on the film was named Bonecrusher. No word yet on what, if anything, the dog hates. (We know, however, who hates the dog.)
He starred in a Verizon FiOS commercial in which he had an awesome pussy cat (a tiger), an awesome grill (with a life-size Bumblebee, also awesome), and an awesome pool. Typically, he had a switch to blow something up, which he did...three times. The cat was not blown up (which was fortunate), but all three explosions were AWESOME. Though one of the things being blown up was the (AWESOME) Verizon guy helping Bay set up his FiOS connection, so he would have something to say about that...if he wasn't in smoldering pieces.

The awesome Verizon guy was only blown up in one of the (at least three) versions of the commercial. In the other two, Bay blows up another (awesome) grill instead. In one, he then invites the Verizon guy to help him blow up "something cool in the backyard." Needless to say, these awesome Verizon guys are much happier than the first.

He might be probably is responsible for the sexual overloads in Revenge of the Fallen.
DIDN'T YOU???
References
External links