This article is about the Decepticon force. For the Autobot Micromaster group, see Metro Squad.
The Metrosquad is Decepticon subgroup from the Zone portion of the Generation One continuity family.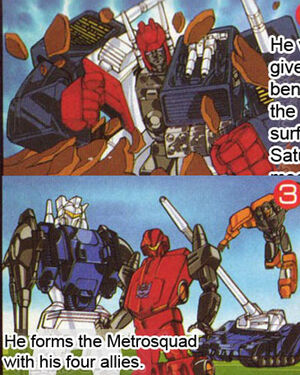 The Metrosquad are Violen Jygar's secondary force, though they are considered the equals of the Nine Great Demon Generals.

The Metrosquad consists of:
Fiction
Zone story pages
Following his activation on Saturn's moon, Titan, Metrotitan formed the Metrosquad. Their first mission was to attack the Autobot lunar base commanded by Rabbicrater and destroy it completely.
Toys
Metrotitan (Decepticon, 1990)
Japanese ID number: D-340
External links