Metroshot is a Decepticon from the Zone portion of the Generation One continuity family.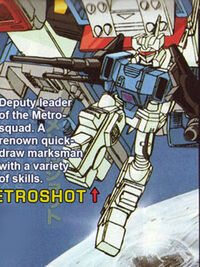 Metroshot is the deputy leader of the Metrosquad, and a marksman renowned for his quick-draw sharpshooting.
Fiction
Zone story pages
Metroshot was recruited into the Metrosquad by Metrotitan. His first mission was to attack the Autobot lunar colony commanded by Rabbicrater.
Toys
Zone
Metrotitan (Decepticon, 1990)
Japanese ID number: D-340
A redeco of Six-Gun, Metroshot is a robot who basically disassembles to form parts for Metrotitan's three modes. His main body and chest form a control tower for the base mode's helipad. His legs are spring-loaded missile launchers (which actually work quite well), while his arms and backpack form non-firing cannons, all of which can be placed in a variety of configurations on any of Metrotitan's forms.
External links