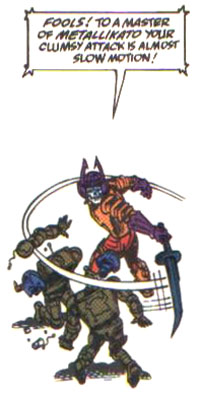 Metallikato, owing to its heavy influence on spirituality, is believed to be the most obscurely practiced and potentially inaccessible of Cybertronian martial arts. Its teachings cull from a wide variety of other martial arts, such as Circuit-Su and Crystalocution, cumulatively emphasizing a variety of attack strategies, though bladed combat is its hallmark. Metallikato has a strict code of ethics to attune its "children" to the "One True Path" of the Ultimate Warrior, a figure of religious legend.
Known users of Metallikato
Notes
References
Community content is available under
CC-BY-SA
unless otherwise noted.