Line 27:
Line 27:
 

[[Image:TFA_Megatron_Starscream.jpg|right|thumb|Ominous silhouettes make anything look cool.]]

 

[[Image:TFA_Megatron_Starscream.jpg|right|thumb|Ominous silhouettes make anything look cool.]]

 

With the ''Ark'' now plummeting through the Earth's atmosphere, a wounded Megatron still manages to thrash the crew soundly and nearly claims the All Spark. Quick thinking on the part of Optimus Prime sends the Decepticon leader out the cargo hatch and into freefall. Megatron [[Megatron (Movie)|falls from the sky]] and crashes in Paw Paw, Michigan, where he is found by a young Isaac Sumdac. His inert form is reverse-engineered by the diligent scientist, until he is reduced to [[Grand Mal|just a head]] beneath the Sumdac Corporation building in [[Detroit]]. Oh, but don't think he won't be back, oh no. {{storylink|Transform and Roll Out!}}

 

With the ''Ark'' now plummeting through the Earth's atmosphere, a wounded Megatron still manages to thrash the crew soundly and nearly claims the All Spark. Quick thinking on the part of Optimus Prime sends the Decepticon leader out the cargo hatch and into freefall. Megatron [[Megatron (Movie)|falls from the sky]] and crashes in Paw Paw, Michigan, where he is found by a young Isaac Sumdac. His inert form is reverse-engineered by the diligent scientist, until he is reduced to [[Grand Mal|just a head]] beneath the Sumdac Corporation building in [[Detroit]]. Oh, but don't think he won't be back, oh no. {{storylink|Transform and Roll Out!}}

 
+
 
+

He is later brought back online, unknowingly by Sari's key, with no knowledge of where he is or how he got there. He witnesses a recording of the Autobots' previous battle with Starscream and learns of Starscream's treachery. Then he learns he can control some of the technology in the lab and uses a small drone to infiltrate the Autobots' new "factory base". Using Sari's storytelling and use of her key as a distraction to the Autobots, he has drone tamper with the factory's controls to attack the Autobots. He is nearly successful, until Prowl and Bumblebee manage to shut down the factory and the others cast out an oil container about to explode. When the Autobots find the drone, an accident by Bulkhead prevents them from examining it, leaving Megatron's involvement unknown to them. After this failure, Megatron decides it is time to show more of his technology to Issac Sumdac... {{storylink|Home Is Where the Spark Is}}

 
 
 

{{-}}

 

{{-}}
---
Revision as of 16:42, 5 January 2008
The name or term Megatron refers to more than one character or idea. For a list of other meanings, see Megatron (disambiguation).
If you were to ask Megatron to describe himself in one word, he'd probably go with "heroic". He sees himself as a freedom fighter, leading the Decepticons out of the days of Autobot tyranny. The fact he's hoping to replace that with Decepticon tyranny isn't really a concern. A fanatic at heart, he revels in every Autobot who suffers at Decepticon hands and doesn't register humans as anything more then "collateral damage."
Megatron demands loyalty from the Decepticons, loyalty he gains by his awe-inspiring power. With the combined threat of a sharp mind, his fusion cannon, a deadly sword and simple brute strength, there aren't many who'd dare cross him. Still, he has no problem manhandling troops as a gentle reminder.
"Megatron? As in 'the cruel and vicious Decepticon leader who eats Autobot protoforms for breakfast'?!"

―Bumblebee
Fiction
Transformers Animated cartoon
This section covers fiction that is ongoing. It will be added to as the story progresses. If it isn't current, you can help by updating it.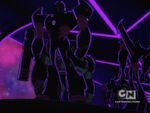 Megatron goes after the Ark after detecting the All Spark. When Starscream volunteers to attack, Megs sees right through him, pointing out "I didn't spend the last four million solar cycles combing the galaxy just so you can get your greasy wings on the All Spark." He even crumples a part of said wings to make his point. Later, Starscream approaches the Decepticon leader again wishing him 'luck' to which Megatron replies 'I don't believe in luck'. Starscream gets his own back by planting a bomb on Megatron, which blows just as his fusion cannon is about to breach the Ark's hull. The Autobot crew manage to steer the now-failing ship through the asteroid field and into the nearby space bridge.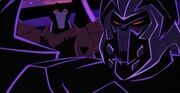 With the Ark now plummeting through the Earth's atmosphere, a wounded Megatron still manages to thrash the crew soundly and nearly claims the All Spark. Quick thinking on the part of Optimus Prime sends the Decepticon leader out the cargo hatch and into freefall. Megatron falls from the sky and crashes in Paw Paw, Michigan, where he is found by a young Isaac Sumdac. His inert form is reverse-engineered by the diligent scientist, until he is reduced to just a head beneath the Sumdac Corporation building in Detroit. Oh, but don't think he won't be back, oh no. Transform and Roll Out!
He is later brought back online, unknowingly by Sari's key, with no knowledge of where he is or how he got there. He witnesses a recording of the Autobots' previous battle with Starscream and learns of Starscream's treachery. Then he learns he can control some of the technology in the lab and uses a small drone to infiltrate the Autobots' new "factory base". Using Sari's storytelling and use of her key as a distraction to the Autobots, he has drone tamper with the factory's controls to attack the Autobots. He is nearly successful, until Prowl and Bumblebee manage to shut down the factory and the others cast out an oil container about to explode. When the Autobots find the drone, an accident by Bulkhead prevents them from examining it, leaving Megatron's involvement unknown to them. After this failure, Megatron decides it is time to show more of his technology to Issac Sumdac... Home Is Where the Spark Is
Toy

I cannot remain in this unacceptable operational status!
---
This character article is a stub and is missing information. You can help Teletraan I: The Transformers Wiki by expanding it.
Community content is available under
CC-BY-SA
unless otherwise noted.