This article is about the comic company. For the television and motion picture studio, see Marvel Productions.
Marvel Comics is a comic book company in the Generation One and real world continuity families.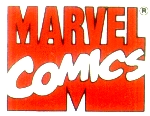 Face front, True Believers! The merry mirthmakers at Marvel Comics brought you Marvel Zombies seven scintillating years (1984-1991) of fabulous funnybooks starring the ever-lovin' Transformers! A mere two years later, those argumentative appliances struck back (and struck out, natch!) in "Transformers: Generation 2". Eons later, in the far-flung future of 2007, Marvel published New Avengers/Transformers, teaming Cybertron's Mightiest Robots with Earth's Mightiest Heroes!
Most of these Marvel mags were penned by one of two brilliant Bullpenners:
"Blazing" Bob Budiansky, who ably edited the original 4-issue limited series before becoming the first permanent writer of the ongoing series, and is credited with creating most of the backstory to the Transformers mythos, as well as writing most of the terrific bios that came with the Hasbro toys.
"Senses-Shattering" Simon Furman, who had been the main writer for the Marvel UK series before being asked by Budiansky to write for the US comic, as well. Furman wrote the last 25 issues of the original series, then battled back to pen all 12 issues of Generation 2.
Marvel published the following Transformers series, so hit those back-issue-bins and Make Yours Marvel!
Excelsior!
Fiction
Marvel Comics continuity
Marvel Comics published the ridiculously terrible Robot-Master comic book series. It did not, however, publish a Potato Salad Man graphic novel entitled This Man, This Mayonnaise. I, Robot-Master!
The real Marvel never published a Robot-Master series, presumably due to the nonexistence of its creator, Donny Finkleberg.
Toys
Marvel characters are incorporated as part of the Crossovers franchise. Marvel Transformers? I think I have heard that before.
Further information
Community content is available under
CC-BY-SA
unless otherwise noted.