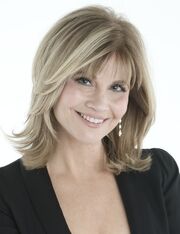 Markie Post
 (born
Marjorie Armstrong Post
, November 4, 1950) is an American actress. She is perhaps best known for her eight-year role as Defense Attorney Christine Sullivan on 
Night Court
. Her other major roles include bail bondswoman Terri Michaels on 
The Fall Guy
, and herself in over 60 episodes of the game show 
The (New) $25,000 Pyramid
. She also played the role of Cameron Diaz's mother in the film 
There's Something About Mary
.
Did you know that she was also an Associate Producer for Double Dare? Betcha didn't! Though it's not the Nickelodeon game show we're all familiar with; rather, it was a different show produced by Goodson-Todman in 1976 for CBS and hosted by Alex Trebek. After that show got cancelled, she went onto another Goodson-Todman series, Card Sharks, as one of the card dealers during the 1978-81 run on NBC; prior to these series, she served as a researcher on the ABC run of Split Second from 1972 to 1975; she also worked on the pilot for Jay Wolpert's first solo game show, Whew!, and appeared as a celebrity guest on his later show Blackout, both for CBS (in 1979 and 1988, respectively).
Voice roles
Community content is available under
CC-BY-SA
unless otherwise noted.