Further information in this article is coming soon as it pertains to information that is not currently appropriate for inclusion.
See the relevant policy page for the reasons why, and do not add further information pending review.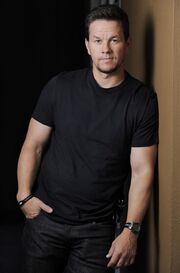 Mark Robert Michael Wahlberg (born June 5, 1971) is an American actor, producer, businessman, former model, and former rapper.
Wahlberg was known as Marky Mark in his early career as frontman for the group Marky Mark and the Funky Bunch, releasing the albums Music for the People and You Gotta Believe. Wahlberg later transitioned to acting, appearing in films such as the drama Boogie Nights and the satirical war comedy-drama Three Kings during the 1990s. In the 2000s, he starred in the biographical disaster drama The Perfect Storm, the science fiction film Planet of the Apes, the heist film The Italian Job, and the Martin Scorsese-directed neo-noir crime drama The Departed, for which he received an Academy Award nomination for Best Supporting Actor. In the 2010s, he starred in the action comedy The Other Guys alongside Will Ferrell, the biographical sports drama The Fighter (for which he earned an Academy Award nomination as a producer for Best Picture), the comedy Ted, the war film Lone Survivor, the crime comedy Pain & Gain, the science fiction action film Transformers: Age of Extinction, the disaster film Deepwater Horizon, and the thriller Patriots Day.
Wahlberg has also served as executive producer of four HBO series: the comedy-drama Entourage (2004–11), the period crime drama Boardwalk Empire (2010–14), and the comedy-dramas How to Make It in America (2010–11) and Ballers (2015–present). He is co-owner of the Wahlburgers chain and co-stars in the reality TV series about it. Wahlberg received a star on the Hollywood Walk of Fame on July 29, 2010. He is known for his "tough guy" action persona, frequently portraying police officers, military personnel, or criminals in his films. He is also known for his collaborations with directors David O. Russell, Michael Bay, and Peter Berg.
Roles in Transformers
Notes
Age of Extinction isn't the first film Wahlberg has worked with Michael Bay on. He also featured in his 2013 film Pain and Gain.
In the 1997 movie Boogie Nights, where Mark plays the main character Dirk Diggler, he does a cover of the song The Touch. Yes, this is him.
External link