Marcelo Matere (1979- ) is a Brazilian artist. He is a freelance artist for Hasbro and has done comic book illustration for 3H, Dreamwave, Titan Magazines and IDW.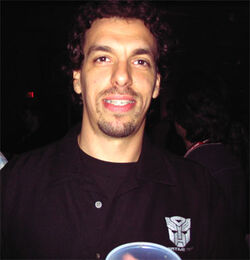 Packaging art
Armada
He also did the package art for Armada's Corona Sparkplug and Wind Sheer, but it is undetermined if these were published anywhere.
Energon
Cybertron
Universe
Beast Wars Tenth Anniversary
Alternators
Star Wars/Transformers
Universe (2008)
Toy design
Matere has done additional toy design work for Hasbro, such as on Cyber Stompin' Bumblebee, as well as doing the character design work for the Robot Heroes figurine line.
Comic book art
Dreamwave
3H
IDW
Titan Magazines UK
Convention Appearances
Notes
External links