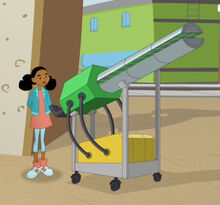 The Magnetic Insta-Grill is a rail gun for cooking hamburger meat. By firing the meat along the electromagnetic rails, it's cooked perfectly inside and out.
History
Doc Greene and Frankie demonstrated the machine at the charity sandwich sale, using it to fire a hamburger patty into Doc Greene's burger. Mayor Luskey loaded a generous portion of "Magic Meat" into it, despite Frankie's protests, and moments later a flaming clump of meat fired out of the end of the Insta-Grill, hitting a nearby blimp and causing it to crash.
Community content is available under
CC-BY-SA
unless otherwise noted.