In order to restore balance to the Force, Luke Skywalker must confront and defeat Darth Vader. Young Skywalker travels across the galaxy to face Vader and uses his attunement with the Force to convert his X-wing Fighter to a combat mecha. Luke battles the Empire's starfighters and ruthless bounty hunters as he embarks on his quest to confront his destiny. [1] He also has a transforming Snowspeeder.
It is almost certain that Luke Skywalker using one of his transforming vehicles would be an extremely powerful opponent for typical Cybertronians, since he's known to have held his own fighting the Unicron Trilogy's Megatron... on foot! Intriguingly, the only other "star warrior" known to have done so is Darth Vader, a.k.a. Anakin Skywalker, no doubt a relation. Perhaps someday we will get to see this powerful family in action in a story.
Toys
Attacktix
Intergalactic Showdown (Multi-pack, 2006)
Luke Skywalker comes in a set with Darth Vader, an AT-RT non-humanoid piloted robot with Clone pilot, Optimus Prime, Megatron, and Omega Sentinel.
You can also get some other Attacktix figures of him, if you really want to.
Star Wars Transformers
Luke Skywalker X-wing Fighter (2006)
Luke Skywalker's mech can transform from an X-Wing starfighter into a robot. The placement of the cockpit in robot mode gives it a see-through chest in which the small pilot figure can sit. Due to the transformation scheme, the arms have a good deal of articulation, including rotating wrists. The legs are attached to a ball joint and the hips may be raised or lowered. The X-Wing has pressure-launch missile launchers located on the end of each wing, and a lightsaber that can clip onto the robot's belt or be held in its hands.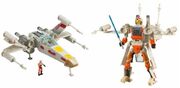 Luke Skywalker Snowspeeder (2007)
Footnotes
↑ Star Wars Transformers Luke Skywalker X-wing Fighter package
External links