Following is a thorough list of female Transformers characters. Many of these characters were Japan-exclusive, featured only in fiction, or exist as limited-run exclusive toys. Female characters who had multiple toys are listed only once.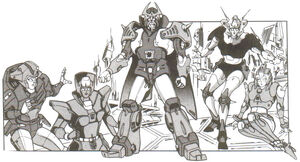 Pre-Generation 1
Generation 1 / Generation 2
Autobots
Decepticons
Beast Era
Maximals
Predacons
Unaligned
Universe / Timelines
Autobots
Decepticons
Unicron Trilogy
Mini-Cons
Autobots
Decepticons
Community content is available under
CC-BY-SA
unless otherwise noted.