The name or term Laserbeak refers to more than one character or idea. For a list of other meanings, see Laserbeak (disambiguation).

Laserbeak transforms into Soundwave's guitar. He's that awesome. And he can hack into any computer, Acoustically. Which is cool too — we guess.
Fiction
Transformers Animated cartoon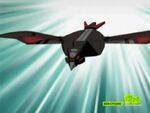 Soundwave used Laserbeak to attack Sari, who discovered that Soundwave is holding the Autobots captive. Human Error, Part 1
Laserbeak appeared in the later battle in the city. Unfortunately, during Optimus Prime's battle with Soundwave, Prime grabbed Laserbeak out of the air and forcibly crammed him into his guitar mode to counter Soundwave's sonic attacks. In the end, Prime used Laserbeak to smash Soundwave back into his component parts. However, Laserbeak somehow managed to escape, taking Soundwave's core away into the sky in order to fight another day. Human Error, Part 2
Toy
Transformers Animated
Laserbeak comes with Soundwave. He is awesome. He also transforms into what appears to be a flying Dean Razorback V. Not to scale, but still awesome.
Notes
Many fans were surprised that Laserbeak did not make an appearance in Sound and Fury. At Botcon 2008, it was revealed that the show's staff were unaware of Hasbro's decision to include him with the Soundwave toy. However, it has been suggested that if Soundwave were to return in Season 3, Laserbeak may appear. And he has, along with a partner in crime.
The guitar he becomes is, as stated above, a Dean Razorback V. The pronunciation of words "Razorback" and "Laserbeak" seem to be quite similar. Coincidence?
Derrick Wyatt uses his design to make an Transformers Animated Sundor along with other April Fool characters in 2009.
External links