This article is about the Timelines-series Decepticon. For the Energon-series Autobot, see Landquake (Energon).
Landquake is a Decepticon from a Timelines addition (sortof) to the Unicron Trilogy continuity family.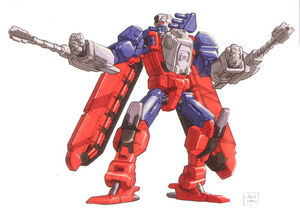 An energon refinement specialist, Landquake longs for a greater destiny. When Megatron began to raid Mini-Con villages in his bid for power, Landquake left his job at the Kalis refineries to join the Decepticon army. However, Landquake soon became disenchanted with his lot, realizing that Megatron's true goals were purely solipsistic, and that the Decepticons lacked the strict military order he craved. As such, Landquake has become bored with being a Decepticon.
Centuries of studying energon have made Landquake extremely adept in its use. Immune to the dangerous radiation of raw energon, he is able to store and refine it in the same manner as the Omnicons and Terrorcons, forging powerful weapons or using it to power his multitude of built-in offensive systems. He can also use it to shield himself from explosions, which is imazing considering the element's volatile properties. Some would say his complete mastery of energon is almost supernatural.
Landquake can get bored very easily. His inability to invest intellectually on a single project for very long, combined with his daydreams for glory and adventure, make him extremely susceptible to con artists.
Fiction
Fun Publications Cybertron comic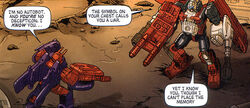 During the Mini-Con civil war, Landquake was enlisted by the Decepticon-aligned Mini-Cons to build a cannon designed to destroy the Autobot-aligned headquarters of the Mini-Con Council of Sages from afar. The Council of Sages drafted a handful of Autobots to their cause, among them Skyfall, who recognized Landquake immediately. Skyfall, who was desperate to discover his forgotten past, had been shown ancient markings on the walls of Cybertron's energon pools that resembled the forms of him and Landquake! Landquake sensed a kinship as well, and they forged a loose partnership.
Unfortunately, Unicron had joined the civil war, and the series of explosions set off around them began to cause them trouble...
Toys
Timelines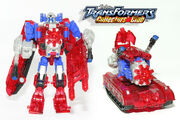 A redeco of the Energon Blight/Kickback mold, Landquake transforms into an anti-aircraft tank similar to a Gepard. He has a clear-red energon chip that can attach to most Energon-series toy molds. He can also form the arm or leg to any combination of Energon combiner team super robot, but his true combined form is called Nexus Maximus.
Landquake is an exclusive to the Fun Publications Transformers Collectors' Club, given as an "incentive" freebie to members who had purchased a club membership before April '06 (but since April '05). He is also available for normal sale through Fun Publications' web store.
Notes
Landquake was originally intended to have a retooled robot head. However, the Chinese factories that manufactured the new parts for the BotCon 2005's "Descent Into Evil" set had insisted on using a grade of steel for the molds that was prohibitively expensive; so while they went ahead with the convention toys' new molds to get them done for the show, for a toy that would largely be given away free, it was deemed unworkable. At this time, it is unknown if the issue has been resolved, letting future "membership freebie" toys have new-mold parts.
Although Landquake does not appear in any Timelines-designated stories, his instruction sheet was printed with the Timelines logo.
External links

I cannot remain in this unacceptable operational status!
---
This character article is a stub and is missing information. You can help Teletraan I: The Transformers Wiki by expanding it.
Community content is available under
CC-BY-SA
unless otherwise noted.