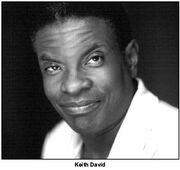 Keith David (June 4, 1956- ) is an American actor. He has appeared in several high-profile motion pictures such as Michael Bay's Armageddon, and in many cult classics such as John Carpenter's They Live and The Thing, but is perhaps best known for his role as Imam in Pitch Black and The Chronicles of Riddick. On the voice acting side, he is recognized for such roles as Goliath in Disney's Gargoyles, the title character from HBO's Spawn and the Arbiter in the Halo game series. He also played Dr. Facilier, the first black Disney villain from The Princess and the Frog.
He is, perhaps, the coolest man alive today.
Filmography in Transformers franchise
Transformers (2007) The Game
Notes
It was originally believed that (much like Frank Welker as Megatron) Keith David would play Barricade in the movie as well as the game. However his agent confirmed he would only be in the game. You have no idea how pissed people were.
External links
Community content is available under
CC-BY-SA
unless otherwise noted.