The name or term Josh refers to more than one character or idea. For a list of other meanings, see Josh (disambiguation).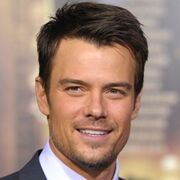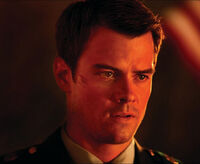 Josh Duhamel (Joshua David Duhamel; November 14, 1972- ) is an American actor and former fashion model, best known for his role of Danny McCoy on the television series Las Vegas.
He's engaged to Fergie of the Black Eyed Peas. Eeeeuuuuuuuggggh.
He has also won the arm-farting competition at the Kids Choice Awards, he must have eaten beans every day!
Duhamel then ventured into film, appearing as one of the main protagonists in four of the Transformers films, most recently in the fifth entry, Transformers: The Last Knight (2017). He has also appeared in When in Rome (2010), Life as We Know It (2010), New Year's Eve (2011), Safe Haven (2013), and You're Not You (2014). In 2015, Duhamel co-starred on the short-lived CBS crime drama Battle Creek.
Transformers roles
Transformers (2007)
Transformers: Revenge of the Fallen
Transformers: Dark of the Moon
Transformers: The Last Knight
External links