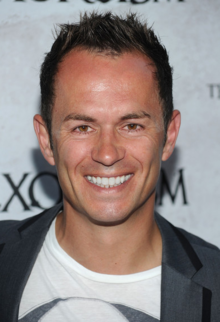 Jonny Rees (born March 21, 1968) is an English actor, known for his live action roles in shows like Touch, Trust Me, The X-Files, Valentine, Nip-Tuck, Star Trek: Deep Space Nine, 24 and movies like Pirates of the Caribbean, Star Trek, Titanic, Beowulf, and Mr. and Mrs. Smith. He was previously working professionally under the name Greg Ellis.
In the realm of voice acting, his credits include Breaker in G.I. Joe: Renegades, Count Vertigo in The Batman, Gentleman Ghost in Batman: The Brave and the Bold, Phosphorus Rex in Beware the Batman, Gatlocke in Generator Rex, Valmont in Jackie Chan Adventures, Lord Byron in The Grim Adventures of Billy and Mandy, Captain Boomerang in Batman: Assault on Arkham, Valen Rudor in Star Wars Rebels and the ever-popular Rocket Raccoon in Ultimate Marvel vs. Capcom 3 and The Avengers: Earth's Mightiest Heroes.
Voice Roles
Community content is available under
CC-BY-SA
unless otherwise noted.