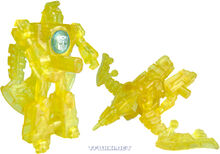 Jin (ジン) assists the Autobot Swordbot Jinbu in his quest to vanquish the Predacons threatening Japan.
Toys
Go!
Jin (Promotional Arms Micron, 2013-06-22)
A redeco of S.2, Jin transforms from a humanoid robot to a laser-bow weapon. He has numerous 5mm posts and holes that allow him to combine with other Arms Microns to form any number of "Combo Weapons" and "Super Combo Weapons", though he is specifically meant to combine with Gan and Zan to form the Sanjōhaōken sword. Jin comes out of the package as a bunch of unpainted parts on runners, like a model kit. Unlike the Arms Microns from the Japanese Prime toyline, he has a tampographed Autobot symbol on his Energon crystal, rather than a sticker beneath it.
Jin was only available with the purchase of Jinbu on June 22nd at roughly a million different stores, including ToysЯUs, AEON, Yodabashi Camera, amazon.co.jp, and more.
This mold was also used to make Timelines Stylor and Burn.
Notes
Be extremely careful when assembling Jin: like S.2, his instructions do not show the ridges in the middle of the pins connecting his front and back halves, and his crossbow "arms" must be on the proper side of the ridges for him to go together properly. Insert the connecting pegs into his body before adding these parts and the back portion, or you risk trying to pull the pegs out of transparent-plastic clips, which probably have already developed stress fracture points just from the initial assembly.
Community content is available under
CC-BY-SA
unless otherwise noted.