Jet Opitmus is an Autobot from Armada portion of Unicron Trilogy continuity.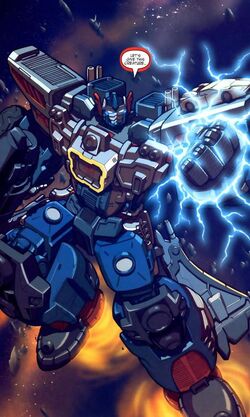 Jet Optimus is the combination of Optimus Prime and Jetfire.
Japanese name: Jet Convoy
Japanese name (with Overload): Magna Jet Convoy
Transformers: Armada comicEdit
Transformers: Armada animeEdit
He puts a serious hurting on the Decepticons in this episode before uncoupling back into Jetfire and Optimus.
Apparently, they used to powerlink frequently back on Cybertron — although nobody on the Earth team seems to recall this ability.
Still, it was a pretty impressive debut for the new toy...er, character.
Transformation
Edit
Community content is available under
CC-BY-SA
unless otherwise noted.