Jean Minakaze is a human from the Victory portion of the Generation One continuity family.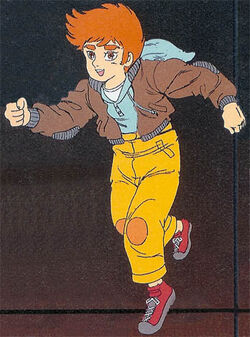 Jean Minakaze (南風ジャン Minakaze Jan) is a human boy orphaned after a spacecraft carrying him and his family was destroyed by the Dinoforce. He was adopted by Star Saber, who acts as his father. He is very protective of Star Saber and does not enjoy watching him go off into battle. He greatly admires his "father" and treats him with the utmost respect. He works along with the Rescue Patrol in giving innocent bystanders aid against Decepticon attacks.
Jean's exposure to an Autobot upbringing has made him very intelligent for his age and species (that is, human). While he has no special weapons, he has built for himself a vehicle capable moving on two robotic legs. He named his creation the Ilumina II, after Illumina, a girl from his school. When indoors, he uses a hover-board to get around and attract attention. He is also very brave for a boy his age.
His normal outfit includes a hoodie overshirt with suspenders and hightop sneakers with no socks, suggesting the Autobots of 2011+ are not particularly fashion-conscious.
Note:
The proper romanization of Jean's name is not clear. The standard (and long-used by the fandom) transliteration of his name is "Jan", but the character being half-French lends credence to the "Jean" romanization, it being a French male name.
English/Malay dub name: Meekon (seriously!)
Latin American dub name: Marcos
Fiction
Victory cartoon
Voice actor: Miyako Endō (Japanese)

I want to tell you about the Transformers!
---
This character article is a stub and is missing information on their fictional appearances. You can help Teletraan I: The Transformers Wiki by expanding it.
Victory comic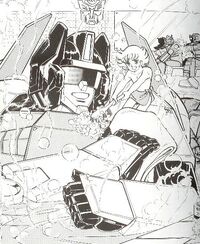 He has an elder sister named Patty.
Note:
Jean's appearance in the manga is slightly different from his appearance in the cartoon. Also, more... well... to be blunt, gay.
Community content is available under
CC-BY-SA
unless otherwise noted.