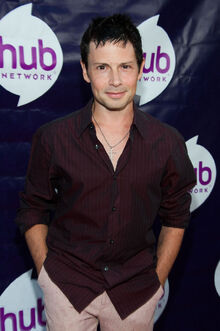 Jason Christopher Marsden (born January 3, 1975) is an American screen and voice actor. Among his live-action roles include Alan Quartermaine, Jr. on General Hospital, Eddie Munster on The Munsters Today (a remake of The Munsters in the 1980s), Nelson Burkhard on Full House and as a Young Burt Ward/Robin in Return to the Batcave: The Misadventures of Adam and Burt.
In the world of voice acting, Marsden may be best known as the current voice of Max Goof in A Goofy Movie, An Extremely Goofy Movie, and the House of Mouse. Other voice roles include Duke on G.I. Joe: Renegades, Richey Foley/Gear on Static Shock, Imaginary Gary and the second voice of Chester McBadbat on The Fairly OddParents, Garrett on Extreme Ghostbusters, Snapper Carr on Justice League, Kovu in The Lion King 2, Peter Pan on Peter Pan and the Pirates, Impulse on Young Justice, Tino Tonitini on The Weekenders, the second voice of Vance King on Adventures in Odyssey, and Michael on the ever so disappointing crossover Cartoon All-Stars to the Rescue.
Marsden was also the voice announcer for Toon Disney (from 2004-2007) and not only starred in but helped direct and produce the anthology thriller film Locker 13.
He is best friends in real life with Will Friedle.
Voice roles
Community content is available under
CC-BY-SA
unless otherwise noted.