Rattrap is a Maximal in the Beast Era portion of the Generation 1 continuity.
It's not so much that Rattrap is a coward... he just doesn't want to die. He's seen enough battles to know the score, so he's not afraid to tell his commanding officer to shove it if he's not fond of the odds. He prefers to sneak around unseen, in gutters or trenches or trash barges or what have you -- whatever keeps him out of harm's way. He shouldn't be so worried. When he does encounter conflict, he deals with it masterfully with the arsenal of guns and bombs he keeps on himself at all times. He feels naked without them.
It's hard to like Rattrap, especially if you're his commanding officer. He's sarcastic, irreverent, and rude. Plus he smells. He's also not the most trusting or forgiving sort, so he's not the best choice to take on a diplomatic run. He'd sooner shoot a Predacon or Decepticon than talk to him.

Japanese name: Rattle
French name: Rattrap
Fiction
Animated continuity
Timelines
Beast Wars
Voice actor: Scott McNeil (US), Katsuhei Yamaguchi (Japan)
Rattrap was a crewmember of the exploration ship Axalon when captain Optimus Primal got word that the Predacon criminal Megatron had stolen the Golden Disk and a ship with transwarp capabilities. The Axalon was the closest vessel that also possessed a transwarp drive, so Rattrap's ship was sent to engage them. After following the Predacons through a transwarp portal and appearing above a mysterious planet, both ships were damaged in the ensuing space battle, and before both ships crashed into the planet's surface below, the stasis pods carrying the rest of Rattrap's crew were ejected into orbit.
The planet was rich with energon -- so much so that prolonged exposure would short out their bodies, so the Maximals and Predacons were forced to take organic forms from the local creatures. Rattrap took the form of a rat. Rattrap was annoyed to be on an unknown planet with a young, experienced captain, and so he continually second-guessed Optimus Primal's command decisions. This made him few friends. Rattrap especially disliked Primal's decision to allow the Predacon Dinobot to join their team. Rattrap distrusted Dinobot and insulted him at every turn. Dinobot wantonly returned in kind, dressing down the "vermin."
Beast Machines
Voice actor: Scott McNeil (US), Katsuhei Yamaguchi (Japan)
Universe
Beast Wars Metals manga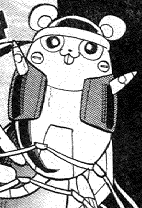 (Note: though it picks up after the first season, the Beast Wars Metals manga is not in-continuity with the television series.)
While Rattrap retained much of his sarcastic, obnoxious-nature in the Japanese dub of the TV series, he was played quite a bit younger or more childishly irritating.
To piggy-back on the popularity of the Pokemon phenomenon of the late '90s, or perhaps just to parody it, Rattrap's beast mode was redesigned into a carbon-copy of Pikachu for the Beast Wars Metals manga. While many characters received "humorous" redesigns for the manga, Rattrap's remains the most reviled.
Beast Wars Transmetals games
Legends anthology
Toys
Beast Wars
Japanese ID number: C-05
Japanese ID number: C-43
Rattrap (Wal-Mart Transmetal redeco)
Rattrap (Tenth Anniversary)
Beast Machines
Japanese ID number: BR-03
Timelines
External Links

You left a piece out!
---
This article is a stub and is missing information. You can help Teletraan I: The Transformers Wiki by expanding it.