Isaac Sumdac is a human from the Transformers Animated continuity family.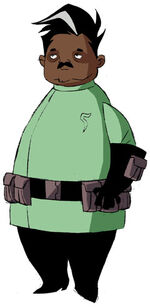 What Henry Ford and Bill Gates were to the 20th century, Isaac Sumdac is to the 21st. He plays a vital role in the automaton industry of near-future Detroit. The founder of Sumdac Systems, he is also the adoptive father of Sari. He probably won't be winning any parenting awards soon, considering he leaves the raising of Sari to robots, seemingly neglects her for days while he works in his lab, and lets her stay overnight with a group of giant alien robots at an undisclosed location. Being a single parent isn't easy, but being a rich single parent should make it a little easier. It's worth mentioning, however, that for all his faults, Issac is a very devoted father (when he remembers that there is a world beyond his lab), as shown by his concerns towards Sari's safety, the elaborate birthday presents he crafts for her, and his attempts to help her make friends (even if this does involve press-ganging the children of his employees into service).
With his fame, wealth, and expertise, he will probably be of no interest whatsoever to the Decepticons. Certainly his friend, the giant talking head in his lab, would let him know if that wasn't true. After all, he's an Autobot, and they would never lie to a human!
He seems to think big, psychotic, robot dinosaurs would be a good thing to have around. Some would agree. Despite this, he has a code of ethics that results in Sumdac Systems having a zero-military-hardware policy, though they are willing to develop drone cop-bots for the Police Department. Isaac cares enough about the common good that when over-zealous employee Henry Masterson developed an obsession with war-bots and endangered the safety of Detroit in the process, Isaac had no hesitation in firing Masterson on the spot.
"I should be more careful when reverse-engineering alien technology."

―Isaac Sumdac
Fiction
This section covers fiction that is ongoing. It will be added to as the story progresses. If it isn't current, you can help by updating it.
Voice actor: Tom Kenny (English)
As a youth, Sumdac found Megatron's head after it crashed on Earth and reverse-engineered it. It is from this that he gained all of the technology he used to build his robots. He is (understandably) terrified that the Autobots, not to mention the world at large, might find out what launched his robotics empire. Transform and Roll Out!
He was shocked to find Megatron still functioned. He confirmed that the robot was indeed an old friend of the Autobots, but bore no grudge. Megatron even suggested the Autobots would be more forgiving of Isaac dissecting him if the scientist gave him a new body before revealing the truth. As a sign of good faith, Megatron helped Sumdac rebuild his robot dinosaurs. Unfortunately, a glitch made them rampage twice, and Isaac felt annoyed at the bad job he'd done. However, Megatron took the blame upon himself and was ashamed that he'd built weapons into the dinosaurs out of his desire to have a body again. Sumdac sympathized with his friend, promising not to tell the Autobots and to restore him one day. Blast from the Past
Isaac briefly attempted to rebuild Megatron, but his modifications were unworkable due to lack of a critically needed element. It just so happened that Sumdac Systems' product line also included a prototype reflex-augmentation suit; when the only working model was mysteriously stolen and the thief then used it to try to retrieve the critical element Megatron desperately wanted, Isaac found that confusing but seemed otherwise untroubled. Nanosec
For Sari's birthday party, he tried to get some kids her own age (all children of his employees) to hang around with her, but even with the help of the Autobots, this did not really work. Luckily, she was happy with her new present, Soundwave, a musical robot that had been created by Megatron simply to please children. (It turned evil but, surely that was all an accident on Meg's part!) Isaac appears to design and make special robots for many of Sari's birthdays, each trying to be better than the last, though as he sadly notes to Megatron, she seems to forget them quite quickly. Sound and Fury
Trivia
It is probably no coincidence that 'Sumdac' is 'Cadmus' spelled backwards. His first name is likely a reference to Isaac Asimov, of I, Robot (the book, not the movie) fame.
He uses Megatron's hand as a chair. Bearings of steel on this one.
Despite the obvious manipulation going on, Sumdac's "working relationship" with Megatron has become surprisingly casual.